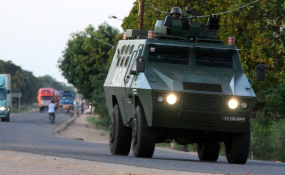 Photo: ISS
Maputo — The new governor of the northern Mozambican province of Cabo Delgado, Julio Parruque, has confirmed continued sporadic attacks by Islamic fundamentalists in the district of Mocimboa da Praia.
On 5-6 October armed islamists attacked three police positions in the district. In these clashes two policemen and 14 of the raiders were killed. Addressing the country's parliament, the Assembly of the Republic, on 1 November, Justice Minister Isaque Chande said 75 people had been arrested.
Cited in Monday's issue of the independent newssheet "Mediafax", Parruque admitted that smaller scale raids have continued in recent days. Last Thursday, a group armed with firearms, machetes and knives attacked the villages of Mutumbati and Megulo, killing two people and injuring a further two.
The raiders also burnt down 25 houses. Terrified villagers have abandoned their homes and sought safety in Mocimboa da Praia town.
Parruque urged them to return, because the situation is now calm, and the defence and security forces are on the ground to protect them.
"Given the seriousness of the situation", said Parruque, "we think it important to take up positions to eliminate this evil definitively, and return tranquillity to our population. This is a challenge that puts us to the test".
Parruque urged local leaders to cooperate fully with the government. He thought it possible to eliminate completely the islamist group "and we have every interest in ensuring that this happens".
The Mocimboa da Praia district government has identified the two leaders of the group as Nuro Adremaane and Jafi Alawi, who are both Mozambicans and own a mosque in Mocimboa. The current whereabouts of the two men are unknown.
Presenting a report to Parruque on his arrival in Mocimboa da Praia, the district government said the aim of the group is to discredit the government and set up its own administrative region, outside the reach of the provincial and central governments.
The fundamentalists, the report said, had studied religion in Tanzania, Sudan and Saudi Arabia, but outside of the control of any Mozambican institutions. They had also received military training (though it is not clear where this took place).
The local government also expressed disappointment at the behaviour of the Mocimboa da Praia district court, which has released the people detained after the October attacks. The government feared that, once back in their communities, they would create further disturbances.
The report said that the fundamentalist group consists mostly of Mozambicans from Mocimboa da Praia, Palma and Macomia districts, but also includes some Tanzanians and Somalis.