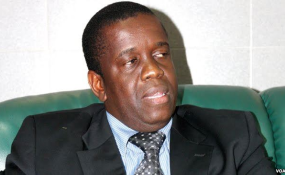 Photo: Wikipedia
Maputo — The leader of the opposition Mozambique Democratic Movement (MDM), Daviz Simango, told reporters in the northern city of Nampula on Monday that no decision has yet been taken on whether he will be the MDM candidate for the presidential elections scheduled for 2019, or whether he will run for a fourth term as Mayor of Beira in the municipal elections of 2018.
Simango, who is in Nampula for the second congress of the MDM, due to start on Tuesday, said that, as the founder of the party, he is currently advising all MDM members who so wish to present their own candidacies.
"My advice is for many people to compete", he said, "because when we founded the party it was to bring more people forward. We are pleased that we have complied with that mission and that more people can participate in democracy in the country".
The MDM spokesperson, Sande Carmona, told AIM "the Congress is sovereign and these matters will be discussed so that the party is organised to compete in the next elections, both municipal and general. As for the Nampula mayoral by-election (scheduled for 24 January), the Political Commission will make all the essential recommendations".
Preparations for the Congress are going ahead smoothly, said Carmona. "1,300 delegates will be present", he added, "and 200 national guests and international guests from friendly parties".
During the Congress, the MDM plans to revise its statues and its programme for government. It will elect the members of the MDM national council and the party's president. There is no serious doubt that Simango will be re-elected MDM President.