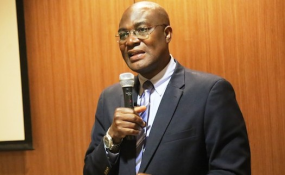 Photo: Daily News
By Bernard Lugongo
ESSENTIAL medicines availability is set to reach 100 per cent by March, next year, up from the current 80 per cent, the Medical Stores Department (MSD) assured, today.
The government's medical supplier also aspires to increase revenue generation by 48 per cent, from the current 244bn/- to 360bn/- in the next three years, through more sales of drugs and medical equipment.
The assurance come when the MSD launched today (Tuesday) a new Medium Term Strategic Plan (MTSP) to be implemented in three years, up to 2020.
Permanent Secretary in the Ministry of Health, Community Development, Gender, Elderly, and Children, Dr Mpoki Ulisubisya, graced the event in Dar es Salaam.