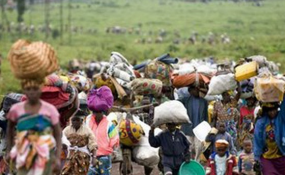 Photo: Angop
By Kilasa Mtambalike
More than 800 refugees have arrived at Tanzania from the Democratic Republic of Congo in the past two months through Kigoma, as political uncertainty rises after the postponement of elections.
Kigoma is a town and lake port in western Tanzania, on the eastern shore of Lake Tanganyika and close to the border with Burundi and the DRC.
Kigoma regional authorities say that between five and 10 people cross the border every day. The new arrivals are gathered in transit areas.
The region's spokesperson, Gabriel Nghonoli, said that most of the people fleeing DRC are women and children from Fizi and Misisi in the south, where there is instability.
"Some of the refugees we interviewed expressed concern that the postponement of the elections would lead to violence, so they are taking pre-emptive measures, but most of the women said that they have been raped by Mai Mai and other rebel groups fighting the government," Mr Nghonoli said.
The refugees are being interviewed by the authorities to establish their authenticity and ensure their safety.
"We have sent information to the Ministry of Home Affairs, which has been communicating with the Congolese government. and at the moment we are waiting for directives from the central government," he said.
As the vetting to ensure those who meet the criteria for being a refugee is going on, those who do not qualify will be handled according to national and international laws.
In December 2016, elections in DRC were postponed until the end of 2017, but the electoral commission has new schedules them for April 2019.
The decision sparked strong condemnation by the Congolese opposition, while the country's electoral commission, CENI, said the delay was necessary because insurrectionist violence in the central Kasai region was impeding voter registration.
He said registration was expected to be complete by January 2018, and that officials would then need 504 days to prepare for the presidential poll.
DRC President Joseph Kabila, who has been in power since 2001, had earlier made a deal with opposition parties to hold elections before the end of 2017.
President Kabila had already exceeded the constitutional two-term limit, but a court ruled that he could stay in office until a new election. Since August 2016, violence in the Kasai region has claimed the lives of nearly 5,000 people and displaced around 1.4 million.
International aid organisations claim that fighting throughout the country has also left at least 7 million people needing emergency humanitarian assistance.