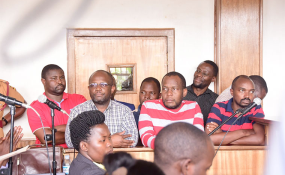 Photo: The Observer
By Juliet Kigongo
A prosecutor from the Uganda Communications commission (UCC) has asked Court not to release the eight Red Pepper journalists charged with offending President Museveni on grounds that their freedom endangers national security.
Mr Mr Abdul-Salam Waiswa on Tuesday asked Buganda Road Court chief magistrate James Ereemye Mawanda to further remand the eight directors and editors saying if released, they are likely to repeat the offence.
The journalists are charged with publishing information prejudicial to security, libel and offensive communication to the person of president Museveni and his brother Gen Salim Saleh.
Mr Waiswa who quoted the affidavit of the investigating officer Assistant commissioner of police Isaac Oketcho, who informed court that if the suspects are set free, they will gain access to their computers, e-mails and mobile phones and there is a likelihood of re-connecting with their networks to frustrate the on-going investigations.
Mr Waiswa added that court should also take into account the gravity and seriousness of the offence of publishing information prejudicial to national security allegedly committed by the suspects which shows that they are a danger to Uganda, Rwanda and the entire great lakes regional security if released on bail.
The eight were first arraigned in court last Monday before being remanded to Luzira Prison where they were picked today for their bail hearing.
The five directors include ; Richard Tusiime ; the Managing Director, Johnson Musinguzi the Finance Director, Patrick Mugumya ; The Director Operations and Arinatiwe Rugyendo; a director who also doubles as the company secretary and chief marketing officer.
Others are ; Richard Kintu; the Deputy News Editor , Ben Byarabaha a senior Editor Francis Tumusiime; the special project Editor and James Mujuni a journalist.
Prosecution states the accused on Novemever 20, 2017 at the Red Pepper offices in Namanve Mukono District, unlawfully caused publication and distribution of a newspaper headline regarding the military operations, strategies and troop location well knowing that such publication can disrupt public Order and security.
In the libel charge, the accused are said to have caused publication and distribution of newspaper storylines that injured the reputations of president Museveni, his brother Gen Salim Saleh and security minister Lt. Gen Henery Tumukunde which publication allegedly subjected the trio to hatred, contempt and ridicule.
They are further said to have willfully and repeatedly used their computers for no legitimate purposes to disturb the peace and privacy of president Museveni, Gen Saleh and Lt Gen Tumukunde by portraying them as people who contrived a plot to over throw the president of the Republic of Rwanda Paul Kagame.
The journalists were further remanded until December 19 when they will return to court for ruling on their bail.