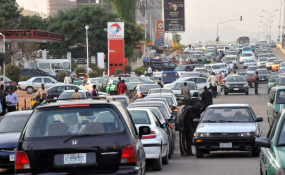 Photo: Premium Times
By Udeme Akpan, Henry Umoru, Mike Eboh & Ediri Ejoh
Abuja — ... Senate summons NNPC boss, to inspect filling stations nationwide
As the fuel scarcity noticed Monday in Abuja, the Federal Capital Territory, FCT, spread to Lagos, yesterday, the Senate has summoned the Group Managing Director of Nigerian National Petroleum Corporation, NNPC, Maikanti Baru, to appear before its Committee on Petroleum Downstream tomorrow, after failing to appear before it yesterday.
It also resolved to commence a nationwide inspection of filling stations to get to the root of the scarcity ahead of Christmas and New Year's celebrations.
This came as indication emerged that the scarcity was being caused mainly by bad roads, Apapa road blockage, speculation over fuel price increase and other logistics problems associated with lifting and delivering of fuel from the depots to filling stations.
Investigations in Lagos, Abuja and other parts of the nation, revealed that though there were products, lifting were being hindered by bad roads, Apapa blockage and other logistic challenges.
In a chat with Vanguard, the National Chairman, Independent Petroleum Marketers Association of Nigeria, IPMAN, Chinedu Okoronkwo, confirmed availability of products in the country.
He said "There is no scarcity, just the aftermath of the gridlock at Apapa area led to shortage of product at the filling stations. Tankers are unable to navigate out of the gridlock at the area and that has led to difficulties of the product to get to the filling stations. Marketers will not hoard product if they have to sell. However, I believe the Federal Government is not oblivious to the sensitivity of the season, and NNPC is working assiduously to ensure steady supply of the product to avert such thing as scarcity."
Meanwhile, the NNPC has assured that there is adequate domestic supply of the product, advising against panic buying.
The NNPC said rumours that pump prices would increase in the run-up to Christmas also contributed to the increased demand for petrol.
"I wish to call on all Nigerians to stop panic buying. We have said times without number that NNPC has sufficient products to cater for the needs of all consumers," Maikantu Baru, the NNPC's group managing director, said in an emailed statement.
While summoning the leadership of NNPC to appear before it tomorrow, Senate Committee on Petroleum Downstream also disclosed that plans to commence nationwide inspection of filling stations over recent fears of fuel scarcity in the country.
Speaking yesterday in Abuja after an investigative hearing on the matter, Chairman of the Senate Committee on Petroleum Downstream, Senator Kabiru Marafa, who insisted that the senate would not watch some unpatriotic persons put Nigerians through any form of hardship, particularly ahead of the yuletide, said though the senate had been adjourned to commence budget defence, the members of the committee would take time out to embark on the oversight.