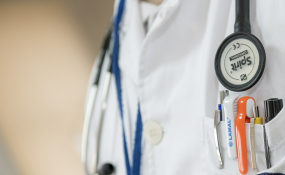 Photo: pixabay
By Shinovene Immanuel
PRESIDENT Hage Geingob said corruption and personal clashes between health minister Bernard Haufiku and permanent secretary Andreas Mwoombola are affecting progress in the ministry.
Addressing the last Cabinet meeting of the year yesterday in Windhoek, Geingob even suggested that one of the two should be removed to stop the chaos affecting the ministry's operations.
Apart from talking about the trouble in the health sector, Geingob also expressed concern with the government losing several legal cases.
The President said he was told that some officials were getting kickbacks, but were now sour because tenders are being cancelled.
The Namibian reported last week about how the clash between health minister Haufiku and his permanent secretary, Mwoombola, is said to be one of the reasons causing medical equipment and drug shortages in hospitals across the country.
Haufiku was present at the Cabinet meeting when Geingob spoke about how the health sector had performed this year.
"It looked like we were making good progress in the health sector," he said, adding that the country is now facing problems, partly because of infighting and corruption in the health sector.
"Some are saying it's a fight between the minister and the permanent secretary," Geingob said.
In this case, Geingob said, the minister, as a political head, is failing in his job.
Looking at Prime Minister Saara Kuugongelwa-Amadhila who was sitting on his right, Geingob said: "Prime Minister, if people are fighting, one must go, or let one be released. We cannot have situations where we have people hating each other."
He added that "they don't even greet each other. Ministers pass by permanent secretaries and look the other way".
"Which means you don't even have meetings together," Geingob said, while Cabinet ministers looked on in silence.
He told his ministers to be strong.
"How can a permanent secretary control you? I will never allow you to control me. But you are allowing a permanent secretary to control you," he charged.
The Namibian understands that Haufiku and Mwoombola have not been seeing eye to eye.
To some at the ministry, Haufiku is a hero trying to stop the rot by blocking questionable tenders that are benefiting a clique of business people.
Not everyone is happy with Haufiku's approach, though.
His actions are, however, interpreted by Mwoombola's sympathisers as clear interference in operational matters.
As a result of the clash, state-owned hospitals are hit by the shortages of basic medical supplies such as gowns, wound dressing plasters, gloves and tubes.
Some doctors last week said the operating theatres could be shut down due to the worsening situation.
The medical officials addressed Cabinet yesterday on their concerns.
CORRUPTION
Geingob also spoke about his plan to reduce the number of civil servants that stands at over 100 000.
"Help us to reduce the wage bill. The financial crisis we are going through has forced us to look at the waste in government," Geingob said.
He explained that the financial troubles have also forced the government to look at ways to save costs, including compulsory retirement at 60.
"You are 60, and that's the time you are fighting to stay on," he said.
The irony is that there is no age limit for politicians.
Geingob also said the financial crisis forced them to look at inflated tenders.
"We are finding (a lot of) wastage. These are the things we are addressing. It's very painful for those who were promised to get [a] million dollars. It's tough," Geingob said. The Namibian has since earlier this year reported about politicians who were constantly pushing for tenders.
People familiar with Geingob's thinking said one such official is being watched, and will be dealt with.
"Some people are apparently paid in advance. Once you are given money, you must deliver. People are getting angry when we cancel contracts," Geingob said.
"You are angry because you already got money in advance and you promise that: "I will deliver, don't worry. Why should you be angry about something [that] is wrong and is cancelled?" he asked.
Geingob cited the increase of the airport tender from N$3 billion to N$7 billion as an example of how contracts are inflated.
The President feels he is not getting the credit he deserves for cancelling that deal, saying instead of applauding the fight against corruption, people have decided to attack him.
"Hage is talking too much. Let's look at how he is corrupt. They tried all kinds of things," he said.
LEGAL LOSERS
The President also spoke about how the government is constantly losing costly legal cases. This appeared to be directed straight at attorney general Sacky Shanghala, who is the state's chief lawyer.
Shanghala was also present at the Cabinet meeting yesterday when Geingob thrashed government's record in losing legal cases.
"Government lost a lot of cases because we are careless. We have to hold our legal advisers to account," he said.
Geingob said maybe the government should look at copying the system in the United States of America, where lawyers get paid based on the success of their cases. It's not clear whether the President will reshuffle his Cabinet, as initially thought.
The President wished his ministers a happy festive season, and reminded them that next year would be the year of reckoning.
"The Bible says, year of judgement. Go and check out the word reckoning. Both from [a] biblical concept and the other one," Geingob said.
People familiar with his plan said the reference to reckoning could not only refer to a possible Cabinet reshuffle, but it's a broader plan to reform government systems.
The idea is apparently to instil urgency in the implementation of state programmes.
It's not clear whether this is possible because there are already complaints that some of the ministers have let him down by not implementing government programmes.