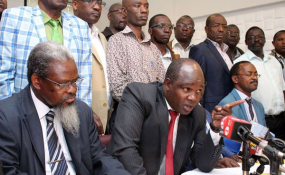 Photo: Daily Nation
By Ouma Wanzala
Lecturers and their employers are meeting today in an attempt to solve the one-month strike that has paralysed learning in public universities.
The meeting by Inter-Public Universities Council Consultative Forum (IPUCCF) and the Universities Academic Staff Union (Uasu) will look at how end the strike.
MONEY FIRST
Prof Isaac Mbeche, the chairman of joint negotiating team, said the agenda of the meeting is to prepare and sign a return-to-work formula.
Uasu Secretary-General Constantine Wasonga confirmed that they will attend the meeting.
"Yes we have received the invitation for the meeting and we will attend it so that we can resolve this issue," said Dr Wasonga.
Last month, the government agreed to release the Sh5.2 billion. Consequently, universities administrations demanded that the union calls off the strike.
However, Dr Wasonga insisted that lecturers will only call of the strike once they have seen money in their bank accounts.
CBA
Dr Wasonga said union representatives from all the 31 public universities had confirmed that none of the institutions had received any funds.
"If public universities have indeed received the requisite finances, let them state so publicly as they have done in the past," he said.
Last week, the union leaders differed on whether to call off the strike with some insisting that the strike can only be called off after receiving the funds while others saying given the government promise, it's good to call off the strike.
The lecturers have demanded the signing of a return-to-work formula to protect all of them from victimisation.
They also want universities to table documents regarding the implementation of the 2013-2017 collective bargaining agreement (CBA) as well as a report on the completion of the individual universities' 2013-2017 CBAs and the 2017-2021 CBA negotiation calendar.
Another demand is a calendar for payment of pension arrears from previous CBAs.