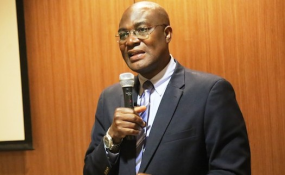 Photo: Daily News
By Bernard Lugongo
THE availability of essential medicines is set to reach 100 per cent by March, next year, up from the current 80 per cent, the Medical Stores Department (MSD) assured, yesterday.
The government's medical supplier also aspires to upswing revenue generation by 48 per cent from current 244bn/- to 360bn/- in the next three years, through more sales of drugs and medical equipment.
The assurance came, yesterday, when the MSD launched a new Medium Term Strategic Plan (MTSP) to be implemented in three years up to 2020. Permanent Secretary in the Ministry of Health, Community Development, Gender, Elderly, and Children, Dr Mpoki Ulisubisya graced the event, in Dar es Salaam.
When presenting the plan, MSD Acting Director for Finance and Planning, Mr Sako Mwakalobo said that the new plan was designed in a way that the MSD operates in line with new changes brought by the Fifth Phase Government.
He said that the strategies were put in a way that by next year the country will see all 135 essential medicines being available by 100 per cent. But, Dr Ulisubisya posed a challenge, wanting them to achieve 100 per cent medicineavailability by next March, the challenge which the management accepted and assured him that it was possible.
"We have to ensure stock availability at the headquarters and zones," he stated. Going with technological advancement, the MSD wants to phase out paperwork kind of operating; instead, it plans to digitize its functions during the next three years.
"These are objectives we are committed to achieve in the next three years," he assured the meeting comprising MSD zonal managers, heads of departments and key stakeholders.
Mr Mwakalobo explained that the factors behind the crafting of the documents were, among others, to adopt those new changes, work on government's priorities and scale up use of technology.
Under the new strategic plan, key areas of focus will be to work on financial sustainability, supply chain management of the medical supplies and human capital management. Dr Ulisubisya pointed out the importance of good management of public funds, saying the result was serving the people well with social services like supply of medicines.
"We don't want the financial resources lost, and when the Controller and Auditor General (CAG) comes here to audit he should not find any rot," he told the MSD management.
Before officially launching the new MSTP, Dr Ulisubisya signed with the Director General of the MSD, Mr Laurean Bwanakunu, a performance contract, which legally binds Mr Bwanakunu to perform as per the new strategic plan.