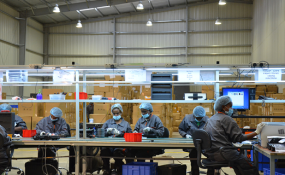 Photo: Addis Fortune
By Bilal Derso
The Ethiopian Investment Commission says the country has witnessed significant investments during the last two budget years and it is in a good position to attain the seven billion USD plan set to the end of the Second Growth and Transformation Plan period (2019/20 fiscal year).
The joint efforts of government and other pertinent stakeholders have borne fruits in enabling the country to obtain over 7.45 billion USD from FDI in the past two fiscal years, Commission Policy Study and Strategy Director Negussie Gurmu tells The Ethiopian Herald.
Capitalizing on Ethiopia's untapped investment opportunities and country's conducive business climate, it is enabled to attract considerable investments that on a par with some investment hotspots of the world, the Director notes.
He says: "Ethiopia has been increasingly become a growing recipient of foreign capital flows and the most attractive destination of investors in the African continent. The country has secured 4.17 billion USD in the 2016/17 fiscal year and become the largest recipient of FDI in the East African region."
Negussie said that the government, setting FDI policy, has been striving to attract labor intensive and export-oriented investment projects in the agro-processing, manufacturing, energy and other priority sectors.
The ongoing massive industrial parks development and expansion activities have been supplementing Commission's efforts to attract quality investments and country's vision of becoming East Africa's FDI hub, he adds.
Besides the role they have been played in the FDI, industrial parks are also key instruments in transforming the country's agrarian economy to industry led one.
Centering on economic diplomacy, Ethiopia's embassies and consulate generals have a significant share in supporting the Commission's endeavors to lure investments from all corners of the world.
He says: "Our missions abroad have been partnering with relevant bodies of the respective countries in identifying anchor investors and encouraging them to have a meaningful participation in Ethiopia's wider investment opportunities."
According to the Director, Ethiopia's Investment Policy and other legal frameworks and incentives have also greater contributions for the success the country has gained in FDI.
Negussie states that the Investment Policy and other regulations have been periodically revised to make them adaptable to global shifts, create a favorable business climate and make the country an ideal place for FDI.
The government pays due attention to attract foreign investments and it has been providing export incentives, customs duty exemptions, income tax holidays and land for investors engaged in the priority areas, he notes.