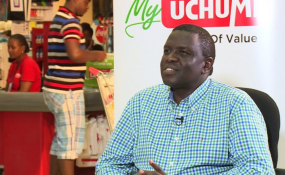 Photo: Capital FM
By Kevin Mwanza
Kenyan retailer Uchumi Supermarkets' chief executive officer, Dr Julius Kipng'etich, has resigned, the company has announced.
The struggling retailer, in a statement posted on its Twitter page Wednesday, said it reluctantly accepted his resignation "with effect from 30 November 2017 to pursue personal interests".
Chief financial officer, Mr Mohamed Ahmed Mohamed, will act at the CEO as the company seeks to replace for Dr Kipng'etich.
"The Board of Directors has commenced the process of identifying a suitably qualified successor to the Chief Executive Officer and will, in due course, unveil the identified successor," Uchumi said.
Two-year contract
Dr Kipng'etich, whose two-year contract expired in October, joined the State-owned retailer from regional lender Equity in August 2015 after its former chief executive, Jonathan Ciano, was fired along with three other managers for mismanagement.
He served as the chief executive officer of Kenya Wildlife Service before joining Equity Group.
The Nairobi Securities Exchange-listed firm has posted a series of losses in the last three years as it struggled to turn around after it was put under receivership in mid-2006 following a botched expansion plan.
It was lifted in January 2008 after KCB, PTA banks and the government converted their debt into equity. It was relisted on May 31, 2011.
Uchumi is now betting on the government to give it $13 million to pay its debts and on finding a strategic investor to take up a controlling stake.
Additional reporting by The EastAfrican writer.
Business Daily