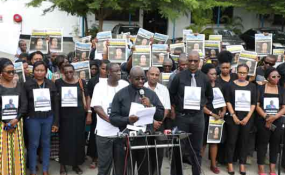 Photo: The Citizen
By Citizen Reporter
Dar es Salaam — Media stakeholders have expressed shock over the disappearance of Mwananchi Communications Limited (MCL) journalist Azory Gwanda.
The stakeholders, who include the Media Council of Tanzania (MCT), Tanzania Editors Forum (TEF) and the opposition Chadema, urged security agencies to thoroughly investigate the disappearance.
Mr Gwanda disappeared over two weeks ago. On Monday, MCL managing director Francis Nanai issued a statement on Mr Gwanda's disappearance from his station in Kibiti District on November 21.
Speaking to The Citizen yesterday, MCT executive secretary Kajubi Mukajanga said his office received the news with great shock.
"This is another proof that being a journalist now is a very dangerous thing. It is now not uncommon for journalists to disappear in mysterious circumstances," he said.
Mr Mukajanga added that MCT planned to conduct training for journalists on safety. This will be implemented starting next year.
However, he said security organs should make sure that Mr Gwanda was found safe and sound.
For his part, Tanzania Editors Forum (TEF) secretary Neville Meena echoed Mr Mukajanga's sentiments.
He said Mr Gwanda's disappearance would likely fuel fear among the media fraternity in the country.
Meanwhile, Chadema said the disappearance was worrying.
A statement released by Chadema spokesman Tumaini Makene said security agencies should act to end the abduction of innocent people.
Mr Gwanda's wife, Ms Anna Pinoni, expressed deep concern about the safety of her husband, recalling that people had been disappearing in Kibiti.
"When they are found alive, they usually don't want to talk about what they went through," Ms Pinoni said at the family home in Kibiti.
Mr Gwanda was last seen in the company of unidentified people who picked him up from Kibiti trading centre and had not been seen since.
His family reported him missing at the local police station on November 23.
Ms Pinoni informed the MCL management about her husband's disappearance on November 30.
She said four men in a white Toyota Land Cruiser arrived at Mr Gwanda's work station in Kibiti at around 8am.
They then took him away, telling those who were with him that they wanted to speak to the journalist.
At around 10am on the same day, the four men and her husband arrived at their farm where she was working.
She further said that her husband called out to her from a window of the car, and asked her where the keys to their house were.
She told him where she had kept the keys before Mr Gwanda told her that he would be away on an emergency trip and would be back shortly. That was the last time she saw him.
MCL publishes The Citizen, Mwananchi and Mwanaspoti. The firm also operates various online platforms.