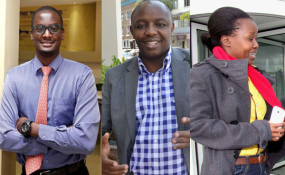 Photo: Daily Nation
By Maureen Kakah
The National Super Alliance could be headed for tough times ahead after a Ford-Kenya party official challenged the list of 12 nominees to the East African Legislative Assembly (Eala) submitted by the coalition last week.
Ford-Kenya party's Assistant Secretary-General Yasser Ali Sheikh sued Nasa and Speakers of both the National Assembly as well as the Senate while faulting the coalition for failing to include a representative from the Chama Cha Mashinani and the said party.
Mr Sheikh, who was among the 54 Nasa applicants for the much coveted Eala slots, has accused the coalition of having conducted the nomination process in a discreet manner and failing to consider coalition rules.
NOMINATION PAPERS
He also accuses Nasa of failing to give his party an opportunity to inspect and verify the authenticity of the nomination papers.
"The list was arrived at without consulting or involving Ford-Kenya which is an equal partner and constituent party in the final decision-making process," said Mr Titus Ochich, his lawyer.
He claimed that he only learnt Wednesday about the contents of the disputed nomination list, hence wants both Houses barred from considering the candidates nominated.
In the case documents, he claimed that Nasa's nomination list was adopted on November 30 by clerks Michael Sialai and Jeremiah Nyegenye for the National Assembly as well as Senate respectively, who are to act as presiding officers in polls on or before December 14.
The names were to be forwarded to a joint committee within three days which then has a week's period to make recommendations as well as consider or reject the nominees.
NINE CANDIDATES
Speakers of both houses are also required to pick just nine candidates as suitable candidates, five being from Jubilee and four from Nasa within 14 days as from November 30.
"If a joint committee permitted to consider the Nasa nomination list as it is, irreparable injustice will befall Ford Kenya and myself as well as all those who have been disenfranchised by the coalition's unilateral decision," said Mr Sheikh.
He added: " It is imperative that the electoral decision making process of an entity such as the Nasa Coalition which is the very manifestation of mainstream opposition within the republic of Kenya to be seen free from bias and above reproach in as far as the nomination to Eala, the premier legislative organ of the East African Community, is concerned."
BAR NOMINEES
Since elections are to be held regarding the matter, he also wants both houses barred from holding such polls and that those nominated barred from campaigning for themselves until the case is heard as well as determined.
Ford-Kenya party is led by Mr Moses Wetang'ula, one of the coalition's principals and he is also the Senate's minority leader.
Those in the disputed Nasa list include Dr Oburu Odinga, Mr Kennedy Musyoka, former Wajir Women Representative Fatuma Ebrahim, the coalition's executive director Norman Magaya and Ms Jane Marwa.
Others are Balambala Mp Abdikadir Aden, ODM Women's League national chairperson Beth Mutunga, former Eala member Abubakar Zain, Loy Mwandi Maviala, Ms Angela Munyasia, Mr Justus Mochoge and Ms Winfred Mutua.
Nominees from Jubilee Party include former Interior PS Mutea Iringo, former Clerk of the National Assembly Justin Bundi, Eala member Abubakar Ogle, former Kamukunji MP Simon Mbugua and former Mandera North MP Mohammed Adan Nooru.