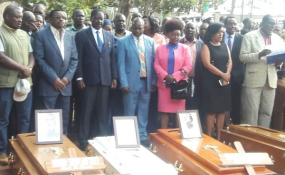 Photo: Samwel Owino/Daily Nation
By Ibrahim Oruko and Kennedy Kimanthi
The opposition Nasa will in the next two days give an update of its programme of action leading up to the controversial swearing-in of its leader Raila Odinga as the "people's president".
Making the announcement Wednesday, National Super Alliance leaders, however, laughed off a series of letters that have popped up in social media indicating that they were shopping for a venue for the function in counties in which the coalition holds sway.
National Assembly Minority Whip Junet Mohamed, the Suna East MP, dismissed the letters and accused Jubilee of authoring them with a view to showing the coalition in a bad light.
"We have seen all such letters but that is not our work," said Mr Mohamed.
"We have neither written, nor are we shopping around for the swearing-in venue which, by the way, is still on."
The letters, purportedly signed by the Nasa presidential inauguration team, were written to the governors of Busia, Kisumu, Migori, Kakamega, Mombasa and Kitui asking them to identify a suitable venue for the anticipated inauguration on December 12.
And, in a statement delivered by his adviser Salim Lone, Mr Odinga dismissed calls to call off the swearing-in ceremony on the grounds that it would polarise the nation.
"Kenya has never been as polarised as it has been the past few months," said Mr Odinga.
"It's polarised because both the August and October elections were stolen, and because of a host of other murderous actions by this regime that have inflamed millions."
POLITICAL TEMPERATURES
The former prime minister accused President Uhuru Kenyatta of "not taking a single action" to lower the political temperatures after the Supreme Court validated his October 26 election victory.
"When he was being sworn in last week, he unleashed the police, who killed more than two dozen lawful protesters," said Mr Odinga.
Mr Lone said the planned swearing-in of Mr Odinga will be lawful and will help to prevent further polarisation by giving Kenyans hope for electoral justice, which was denied to them, under a genuinely independent electoral commission.
"It will also give a new impetus for the people's assembly to guide county assemblies in urgently addressing a number of pressing economic and justice issues that will provide material benefits to our people," he said.
PURSUE REFORMS
ODM Executive Director Oduor Ong'wen, a member of the organising committee, said they will in two days give an update of their programme.
Separately, the United States wants to constitutionally pursue reforms even as it expressed a willingness to work with President Kenyatta's government. In a statement, Washington asked Nasa to avoid unconstitutional means to front their calls for the reforms they seek.
Of concern to the President Donald Trump administration is the planned swearing-in, which it asked Nasa to call off. It called for national dialogue involving all Kenyans to address divisions brought about by the electioneering.
"The United States also urges opposition leaders to work within Kenya's laws to pursue the reforms they seek and to avoid extra-constitutional actions such as the proposed 'inauguration ceremony' on December 12."