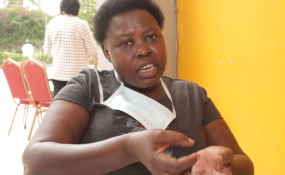 Photo: Rachel Mabala/Daily Monitor
By Nelson Wesonga
Kampala — The Aga Khan Development Network's Resident Representative to Uganda has intervened to get State Minister for Primary Healthcare, Joyce Moriku Kaducu, admitted to the Aga Khan Hospital in Nairobi, Kenya.
This follows a request by Uganda's State Minister for Health, Ms Sarah Opendi for AKDN's help.
As of Tuesday, all the beds in the Intensive Care Unit of at the Aga Khan University Hospital in Nairobi, to which Ms Moriku had been referred, were occupied.
With fears mounting that her health would deteriorate if she is not attended to quickly, Uganda's health ministry sought help.
"... I made an effort to get in touch with the Aga Khan Ambassador [Amin Mawji, Order of the British Empire (OBE)], who took up the matter immediately... " Ms Opendi said.
She said the Ambassador 'contacted the hospital' and now she has received communication that there is a bed available and they [Aga Khan Hospital] are "going to reserve it" [for Ms Moriku].
According to information on the Ismailimail blog, the AKDN plays an important role in supporting early childhood development, education, tourism, energy, industrial development, media, financial services and healthcare in the countries in which it operates.
In Uganda, the network is in the process of building a $100 million (Shs360 billion) teaching hospital in Nakawa, about five kilometres East of Kampala City Centre.
Ms Moriku developed health complications early this week.
Ms Opendi told the Health committee that Ms Moriku was down due to food poisoning.
She was then admitted to Rubaga Hospital and later discharged.
She fell ill again, prompting her to go to Platinum Hospital in Kampala for treatment.
According to Ms Opendi, when Platinum Hospital was about to discharge Ms Kaducu, she developed complications to the brain.
"Initially, they thought they were managing Pneumonia; they were managing Pneumonia. After one or two days, the situation deteriorated. She was transferred to IHK [International Hospital Kampala]," said Ms Opendi.
But even at the IHK, her condition continued deteriorating. This informed the decision to move her to the Aga Khan Hospital in Nairobi.
The Flying Doctors were supposed to fly her to Nairobi on Tuesday, December 5.
For that, the government paid the Flying Doctors $7, 000 (Shs25 million).
However, since it was rather late, the Flying Doctors could not fly her to the hospital.
In the intervening hours, the bed that was available was taken by another patient.
Because of her condition, she could not be flown to India.
And the ICU beds in a hospital in South Africa to which she could go were all occupied.
It was at this point that the Ugandan government decided to engage the AKDN.