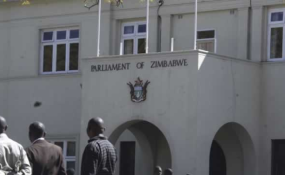 Photo: The Herald
By Business Reporter
CHINA has extended a $153 million loan for the construction of Zimbabwe's new parliament and the rehabilitation of the Robert Mugabe International Airport.
The loan, which has a 20 year repayment period including a seven (7) year grace period, has an interest rate of 2% per year.
Receiving the grant at his government offices, Wednesday, Finance minister Patrick Chinamasa said it took government 5 years to negotiate the loan deal.
"This is part of the negotiations we started in 2013 which were also cemented by the state visit by his excellence MR X1Jingping in December 2015, where he also pledged to support the construction of a new parliament," said Chinamasa.
The new parliament, to be built in Mount Hampden in Harare, will have a holding capacity of 650 members of parliament.
Chinamasa said the deal was the country's first investment deal under the leadership of President Emmerson Mnangagwa.
"We are back on the economic track and we are ready to get the economy moving and you are going to see more investment deals being penned in the not far future," he said.