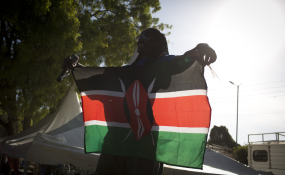 Photo: Siegfried Modoloa/USAID
By Evelyne Musambi
Kenyans online have a lot to say about Makueni Senator Mutula Kilonzo Junior's new Bill seeking to allow people to fly the national flag in their homes.
The senator published a Bill which proposes to amend the National Flag, Emblems and Names Act to allow members of the public to fly the National Flag in their places of residence, work and business.
In a Twitter reply, Mutula termed the flag a symbol of unity while defending his Bill, which has eliciting mixed reactions.
@Ndumefahari1 tweeted, "Let him come up with a bill that addresses our people's myriad problems. We don't need flags In our homes. We need livelihood.Busybody!"
@JohnWachirahj wondered, "How's that supposed to change our lives? Flying a flag in a home full of poverty and hunger, am sorry that is not going to change anything."
NO HARM
@ShikoKinuthia wrote, "I like it! No harm in showing some patriotism!"
@jaymzn questioned, "So if I fly one in my Manyatta,what is the benefit?"
@Ochuka_ had an addition, "It should also include our vehicles... should not be a reserve of ministers."
@Njoroge_Kanyua1 commented, "Maybe he could address job creation for atleast one individual in every homestead. Having flags with education and no jobs is such a ridiculous idea."
@Wouci wrote, "This is the way to go. The flag should not be a preserve of a few... every Kenyan should be free to fly it. Kudos JR"
@Wmnjeri exclaimed, "How incredibly useless!"