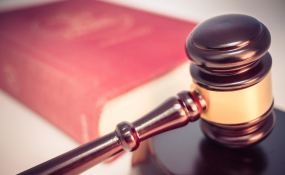 Photo: Blogtreprenuer/Flickr
The Cape Town Magistrate's Court has denied a UK fugitive bail while he launches an appeal after being found eligible for extradition to face 42 paedophilia-related charges in his home country.
Lee Tucker appeared unsurprised when Magistrate Vusi Mhlanga gave his ruling, hugging two friends and his life partner who had attended proceedings on Wednesday.
During closing arguments, Advocate Christopher Burke - for the State - argued that Tucker was opportunistic and had been evading justice for 17 years.
He pleaded that the court "should not gamble" with Tucker's trustworthiness.
"He is a flight risk and well-travelled. When he left England, he left everything behind," Burke said, pointing out that it was possible for him to do this again.
"The only way the court can determine his behaviour in future is to look at how he has behaved in the past."
Fled UK on 'spur of the moment'
The commercial helicopter pilot fled the UK in 2000, days before being convicted of paedophilia-related charges along with a co-accused.
Tucker, who now lives in Green Point, Cape Town, testified during proceedings and said his choice to skip the country was made on the "spur of the moment" on a Friday evening. He was "gone" the following morning, he said.
After Tucker, who was in absentia, and his co-accused were found guilty, one of the men launched an appeal. The conviction was overturned on a technicality and a retrial was ordered, again resulting in Tucker's co-accused's conviction. The man died behind bars while serving his sentence.
Tucker, from Swansea in Wales, had already fled the country and is still due before the court.
News24 previously reported that the charges he faces in the UK include assaulting underage boys, living from the earnings of male prostitution and being part of a paedophile ring in Bristol in 1998.
He said he had hoped to clear his name, but that his home country had "allowed miscarriages of justice".
'Sufficient evidence of flight risk'
He said "a great number of people" were convicted on accusations and not evidence, and during cross-examination said he believed he was being charged in the UK for being gay.
Tucker's attorney, Ben Mathewson, argued that his client had been out on bail prior to being found to be extraditable and had complied with his bail conditions and attended all court proceedings.
He said in the almost two decades that Tucker has been living in SA, he has not once contravened the country's laws.
Tucker was also not being given medication he needs, his lawyer argued.
Mathewson said Tucker "gave everything he owns" as security for bail, pointing out that his life partner, friends and his animals were all in the city.
His client never wanted to return to the UK again, he reiterated.
Mhlanga in his ruling said there was sufficient evidence that Tucker was a flight risk as he had been evading the authorities for 17 years.
Releasing him would not be in the interest of justice, he decided.
Source: News24