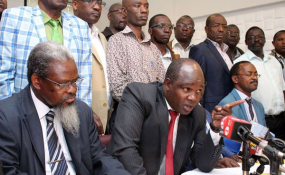 Photo: Daily Nation
By Ouma Wanzala
For the second day running, lecturers and their employers Thursday failed to seal a deal on ending the staff's one-month strike and scheduled their talks for Saturday.
The parties could not agree after the Universities Academic Staff Union (Uasu) insisted that the following issues should be addressed first: internal collective bargaining agreements (CBAs), pension for lecturers and talks on the 2017-2021 CBA.
"We have not agreed. Three irreducible minimums have not been addressed and the strike is, therefore, still on," said Uasu Secretary-General Constantine Wasonga.
He said lecturers want a firm commitment before calling off the strike.
The Saturday meeting will determine whether the job boycott will continue.
PENSION SCHEME
Thursday's meeting started at 11am and ended at 5pm while the one on Wednesday started at 9am and ended at 4pm.
Dr Wasonga said they are demanding Sh4 billion in pension -- Sh2 billion for the 2010-2013 CBA and Sh2 billion for the 2013-2017 CBA.
"The universities' pension scheme is contributory. The employer pays 20 per cent and the employee 10 per cent. Employees have been paying their money and the employer has not been fulfilling part of its bargain," said Dr Wasonga.
He acknowledged that universities had already received Sh2 billion for the salary increase and the remaining Sh3.2 billion would be paid in seven months as capitation.
"As far as money is concerned, we are sorted out and once we are done with the remaining issues, we will call off the strike," said Dr Wasonga.
The meeting was attended by universities management. It was led by University of Nairobi deputy vice-chancellor Isaac Mbeche.
Last month, the government agreed to release the Sh5.2 billion.
Consequently, university administrations demanded that the union calls off the strike.