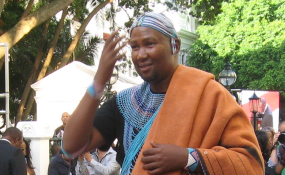 Photo: Lungelwa Timla/Allafrica.com
US President Donald Trump's recognition of Jerusalem as the capital of Israel is an act of perverse incitement and aggression against the Palestinians and all freedom loving people in the world, traditional chief and MP Mandla Mandela said on Thursday.
"It affirms that, once again, the USA regime is on the wrong side of history. Just as it supported apartheid South Africa's brutality it now unashamedly supports apartheid Israel and its ongoing genocide in Occupied Palestine," he said in a statement.
"Trump's illegal declaration defies all international law and has reduced the peace process to a mockery, in which the expansion of illegal settlements continues unabated. Only the extremely insane and seriously delusional can construe such dastardly acts of aggression against UN recognised Palestinian rights as contributing to peace."
Trump on Wednesday said he had "determined that it is time to officially recognise Jerusalem as the capital of Israel".
He was also directing the State Department to begin preparation to move the American Embassy from Tel Aviv to Jerusalem, calling it a "long overdue step to advance the peace process and to work towards a lasting agreement".
Mandela called on US citizens, and its civil rights movements, in particular, to disassociate themselves from "this illegal act" and to call Trump and the country's leadership to order.
South Africa's Parliament should also condemn this "act of aggression and violation of international law," he said.
"We have stood firm in defending [former] president Nelson Mandela's position that South Africa's freedom is incomplete without the freedom of the Palestinians."
'Add fuel to the raging fire'
He further called on ANC National General Council delegates to "demonstrate our indignation and call for a special resolution condemning Trump's illegal declaration," asking that they take a "firm position on completely cutting diplomatic, trade and cultural ties with apartheid Israel".
"It is Trump's prerogative to move his embassy to the moon, but he has no right or jurisdiction to make illegal declarations which add fuel to the raging fire of apartheid Israel's illegal occupation, its denial of the right of return of 6 million refugees in the Palestinian diaspora, its daily humiliation of women, children and the elderly and treatment of them as pariahs in the land of their birth, the illegal daily torture and incarceration of hundreds of Palestinian political prisoners including women and children, and the heinous construction of Israel's apartheid wall," he said.
The Boycott, Divestment, Sanctions (BDS) movement said Trump's move was a major step in undermining international law.
"This is one step too far; it cries for an end to usual timid and vacuous statements of so-called support for the Palestinians, a people who backed us during our struggle against apartheid. There has never been a more important time for meaningful and real action to hold Israel accountable for its endless human rights abuses and violations of international law; simply put, for boycott, divestment and sanctions against Israel similar to the 1980s sanctions against apartheid SA," BDS's Kwara Kekana said in a statement.
BDS called on the ANC to expedite its resolution for the immediate downgrade of the SA Embassy in Israel, expected to be decided on at the party's elective conference next week.
"South Africa has for too long maintained the non-beneficial apartheid-era diplomatic relations with Israel and nothing can justify its further continuation. The time is now - we are calling on South Africans to mobilise and organise as we will be needed on the streets."
'Find a peaceful solution'
Wendy Kahn, the national director of the South African Jewish Board of Deputies, said it recognised the sovereignty of the US and its prerogative to make decisions in the advancement of its national interest.
"We, however, believe that the Israelis and Palestinians must now come together to the negotiation table to find a peaceful solution to this tragic conflict.
"Our plea to world leaders, including our own government, is to actively put pressure on both sides to do so," she said.
The SAJBD believed the SA government, now more than ever, had a unique role to play in facilitating constructive dialogue to restart the peace process, Kahn said.
"We are encouraged that this commitment was evident from the ANC NEC sub-committee on international relations at their press conference [on Wednesday], where they reconfirmed that the ANC will engage both Israelis and Palestinians, to ensure that they come together, united, to solve their problems, and find a long-lasting solution to the Israeli-Palestinian issue."
Source: News24