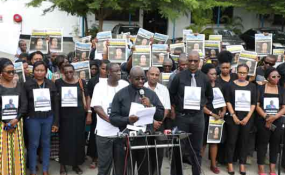 Photo: The Citizen
By The Citizen Reporter
Dar es Salaam — MCL has followed up the issue of the disappearance of its Correspondent Azory Gwanda with the Rufiji Special Zone Police Commander Onesmo Lyanga, who has said he has not received any report on the disappearance.
MCL has also written to the minister of Information, Culture, Arts and Sports, the Inspector General of Police, the Speaker of Parliament and media and human rights organisations over the disappearance.
MCL does not know who kidnapped Azory and for what reasons. If he is being held for any crime that he committed then those who are holding him should charge him in court as the laws of the land demand and let justice take its course.
We also ask the government to help find Azory. It is our hope that Azory will be found safe and sound.