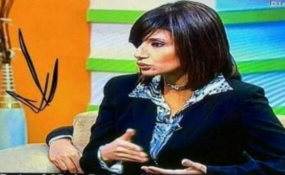 Photo: Screenshot
Cape Town — Social media users have had a good laugh at Egypt's state television station after a "third hand" was seen behind an anchor during a live interview, reports Al Arabiya.
The oddness was screengrabbed - and the Nile International TV channel was soon the object of many jokes on social media.
The interviewer was focused on the discussion, and didn't notice one of her colleagues fixing something at the back of her seat.