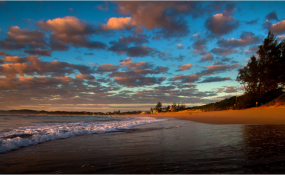 Photo: Hein Waschefort/Wikipedia
The government is dissatisfied with the revenue generated so far by tourism, declared Prime Minister Carlos Agostinho do Rosario on 4 December. Speaking at the launch in Maputo of the country's first Tourism Forum, Rosario said that revenue should be much higher, given Mozambique's vast and diverse tourism potential.
Currently tourism accounts for about 2.5 per cent of Mozambique's gross domestic product and employs 61,000 workers. The Prime Minister regarded these figures as relatively low and as a challenge that called for greater commitment from tourism businesses. He wanted to see all stakeholders in the tourism industry displaying more dynamism in promoting tourism.
"This GDP percentage is a challenge for all of us", said Rosario, "since the country possesses enormous tourism potential, ranging from its beautiful beaches and coastal attractions, to the distinctive fauna and flora of the Mozambican ecosystem, and the rich history and culture of our people".
He urged tourism companies to design more attractive packages for Mozambican citizens, since domestic tourism has the advantage of taking place throughout the year. Cultivating domestic tourism would bring in more revenue, he argued, and would encourage national unity.