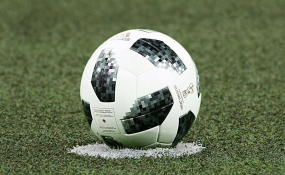 Photo: Pixabay
press release
Egypt and Liverpool forward Mohamed Salah has been voted the overall winner of this year's BBC African Footballer of the Year Award, the first time he has been shortlisted.
Presenter Mimi Fawaz announced Mohamed Salah as the winner during a special presentation broadcast during Focus On Africa programme on BBC World Service and BBC World News, as well as a special show on BBC BRIT.
Liverpool manager Jurgen Klopp joined Fawaz at the club's Melwood training academy to present Salah with the coveted trophy. Fans voted online at BBC.com/AfricanFootball in record numbers this year for their favourites on the five-man shortlist. The 25-year-old Liverpool star beat Gabon's Pierre-Emerick Aubameyang, Guinean Naby Keita, Sadio Mané of Senegal and Nigeria's Victor Moses.
Mohamed Salah says: "I am very happy to win this award. It's always a special feeling when you win something. You feel like you did a great year, so I'm very happy. I would also like to win it next year!"
Salah, this season's Premier League top scorer with 13 goals, has enjoyed a stellar year for both club and country. In early 2017 he was the central figure for Egypt as they finished runners-up at the Africa Cup of Nations. Later in the year, the pacey forward had a hand in all seven of the goals that took the Pharaohs to their first World Cup since 1990 - assisting two and scoring five, including the stoppage-time penalty against Congo that qualified them for Russia.
"I want to be the best Egyptian ever so I work hard," adds Salah, who has become the third Egyptian to win the award, and first since 2008.
Joining Liverpool from Roma in June his Anfield career could scarcely have got off to a better start, as he was named the club's player of the month in August and September. A goal on his debut helped him rack up seven goals in his first 11 Premier League games, and he has fared even better in the Champions League, with five goals in six group games.
"It's well deserved," said Liverpool coach Jurgen Klopp, who handed the trophy to the player at the club's Melwood training academy. "I am a really lucky person. I had the opportunity to work with a few outstanding players and I am happy that it is now with Mo. The good thing is that he is still young, there is a lot of space for improvement, a lot of potential still that we can work on, but that's how it should be. It's a big pleasure, to be honest, to work with him."
Salah now adds his name to a list of African legends, including Abedi Pele, George Weah, Jay-Jay Okocha and Didier Drogba, to have won the BBC African Footballer of the Year prize.
"I am very happy to be like them in winning this award," said the Egyptian, who follows compatriots Mohamed Barakat (2005) and the legendary Aboutreika (2008) in receiving the trophy.
Previous winners of the award include:
Riyad Mahrez (2016)
Yaya Touré (2013 & 2015)
Yacine Brahimi (2014)

For more information about the award, go to bbc.com/africanfootball or search #BBCAFOTY on Facebook, Instagram and Twitter.
BBC World News and BBC.com, the BBC's commercially funded international 24-hour English news platforms, are owned and operated by BBC Global News Ltd. BBC World News television is available in more than 200 countries and territories worldwide, and over 450 million households and 3 million hotel rooms. BBC BRIT, the entertainment subscription television channel, is home to some of the biggest and boldest entertainment shows on television, including Strictly Come Dancing, Top Gear, laugh-out-loud comedy and fascinating documentaries.
www.bbcsouthafrica.com/channels/brit/
https://twitter.com/BBCSouthAfrica
#BBCBRIT