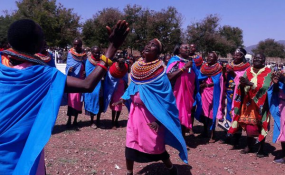 Photo: Vivian Jebet/Daily Nation
By Kennedy Kimanthi
Kenyans early Tuesday started trickling in to Moi International Sports Centre, Kasarani, for the 54th Jamhuri Day celebrations.
Gates were opened at 7am.
DIGNITARIES
Security at the stadium was tight, with those getting in being frisked by security officers.
Vehicles getting into the venue were also searched.
According to Government Spokesman Eric Kiraithe, President Uhuru Kenyatta will preside over the event will be attended by several dignitaries.
The military parade and the ceremonial trooping of the colour be conducted by the Airforce Command from Moi Airbase in Eastleigh, Nairobi.
The Air Force will also host the President's Guard of Honour and lead other armed and disciplined forces in a March past as well as pull off the flypast.
Those in attendance will be treated to a variety of entertainment-- including live performances by local artistes, cultural songs and dances.
SPEECH
The culmination of the celebrations will be President Kenyatta's address to the nation.
It will be his first national day function following his swearing-in on November 28 for his second and final term after the Supreme Court upheld his re-election in the October 26 fresh presidential poll.
On Sunday, Nasa leaders "postponed" their "swearing-in" of their leader and presidential candidate Raila Odinga and his running mate Kalonzo Musyoka as 'The People's President' and his deputy, respectively, under pressure from foreign diplomats and religious leaders.
President Kenyatta's speech is expected to focus on the just-concluded prolonged electioneering period, free day secondary education, unity of purpose for all Kenyans, security and infrastructural development.
Jamhuri Day is celebrated to mark Kenya's self-rule.