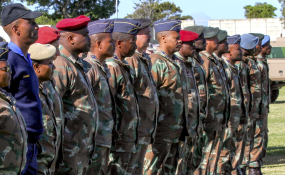 Photo: Spc. Taryn Hagerman
By Andre van Wyk
Cape Town — Regulations to the State of Emergency Act of 1997 have been drafted by an inter-departmental task team, according to the Rapport newspaper.
The terms of these regulations would empower security officials to employ their personal discretion with regards to issuing arrests, perform search and seizure operations without warrants and affect the functionality of the Internet and cellular networks.
This marks the first time changes have been made to the document since July 25, 1985, when former president PW Botha declared a state of emergency that resulted in the deaths of 575 people and the incarceration of activists.
Lawyers for Human Rights have slammed the regulations, describing them as vague and that they give undue power. "It reminds one of the 1980s when the apartheid government used the declaration of a state of emergency to suppress political dissent," National Director of Lawyers for Human Rights advocate Jacob van Garderen said in the article by Rapport.