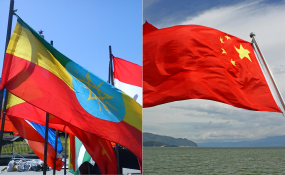 Photo: allafrica.com
By Alazar Shiferaw
" Ethiopia has put a vision to become Africa's light manufacturing hub by 2025. Hence, we are working day in and day out to realize this set goal. And the overall construction of industrial parks is at promising pace," said Sisay Gemechew , Industrial Parks Development Corporation General Manager.
He recently told the Ethiopian Press Agency that the nation has already intensified the fight against poverty through designing and implementing well identified economic development strategy .
The nation has been putting in place the necessary infrastructure via building a number of modern industrial parks with a view to attracting both local and foreign investors and entrepreneurs, he added.
Sisay also indicated that the country has allocated over 30 billion Birr to construct eleven industrial parks across the country this fiscal year alone.
"Those industrial parks that have gone operational have so far proven successful towards the industrialization development ."
Beyond boosting the country's Foreign Direct Investment income, industrial parks create conducive environment for knowledge transfer and youth employment . They as well ease farmers market chain challenges, he noted.
The country has planned to construct 25 industrial parks , some are finished , some are under construction, others are on the pipeline. However, most of them are owned by foreign investors, though the government facilitates loans , tax holidays among others.
So far, the Hawassa and Bole Leme Industrial Parks have created 12,000 and 13,000 jobs respectively.