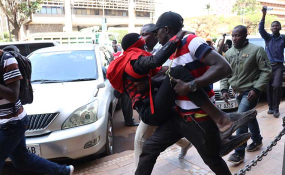 Photo: The Observer
By Job Bwire
Makindye West MP Allan Ssewanyana has been asked to get out of Parliament chambers over improper dress code.
Speaker Rebecca Kadaga on Tuesday told Mr Ssewanyana to leave the House chambers despite efforts by Opposition chief whip Ibrahim Ssemujju Nganda to defend his colleague saying his suit was torn in the September 26 scuffle which left several MPs hospitalised.
Mr Ssewanyana turned up in the House dressed in overalls saying he couldn't risk his suit again.
Earlier on, he had told journalists that he was ready to die fighting against the proposed removal of the presidential age limit.
This was the first time Mr Ssewanyana turned up at Parliament since September 26 when he was battered and arrested following security personnel raid on the House.
The Parliament's rules book guides the MPs on Parliamentary Procedure, election of the Speaker of Parliament, how MPs should dress, the kind of language they should use and how the MPs should carry themselves in and out of Parliament.
This was shortly after House business resumed following the return of MPs from recess ahead of the anticipated debate on presidential age limit bill.
Parliamentary dress code
The MPs should dress in a dignified manner.
The men should dress in suits, pairs of trousers, jackets/coats, shirts and ties.
They could also dress in kanzus or safari suits. The women should wear blouses and skirts or dresses and jackets.
Military staff should wear their uniform. All should wear dignified shoes. In some exceptional cases, a Member of Parliament could, with the Speaker's permission, wear what might not necessarily be dignified shoes.