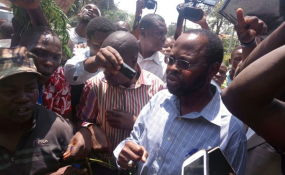 Photo: Rushdie Oudia/Daily Nation
By Rushdie Oudia
The multi-million shilling property behind a succession battle involving Kisumu Governor Anyang' Nyong'o and his two nephews includes flats in Nairobi, prime plots in Kisumu town and 100 acres of land in the Miwani sugar-growing zone.
Geoffrey Omondi Nyong'o and Kenneth Odhiambo Okuthe have accused Prof Nyong'o and his sister, Nyagoy Nyong'o Bloch, of excluding them from the list of beneficiaries of their grandfather's estate.
The court this week revealed the contested property, whose value at current valuation could breach the half a billion shilling mark.
List of properties
This includes flats on Nairobi's Jogoo Road, 100 acres in the sugar zone of Miwani and prime plots in Kisumu's Manyatta and Milimani estates.
They also include land in Muhoroni and Seme Sub-County in Kisumu as well as cash in Cent Sacco Society.
The land was valued at Sh200 million seven years ago and the nephews told the court that the list could grow further once Prof Nyong'o is compelled to declare his father's entire estate.
Kisumu governor's father, Mr Shimei Nyong'o, had not written a will at the time of his death nearly 20 years ago.
Court papers say that upon the senior Nyong'o's death, Prof Nyong'o and his sister Mrs Nyagoy applied to be the administrators of his estate.
Revoke letters of administration
The nephews of Prof Nyong'o want the court to revoke the grant of letters of administration and an audit of the estate.
Mr Omondi filed the case under a certificate of urgency, saying he feared that Prof Nyong'o could sell or transfer the estate.
"The respondents have frustrated my efforts to access vital and relevant information pertaining my grandfather's Estate," said Mr Omondi.