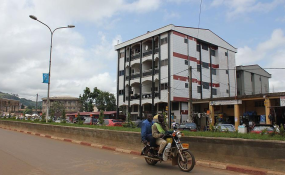 Photo: Rfi
By Liengu Etaka Esong
Local authorities review strategies to ensure peace and security.
Security concerns was the lone item on the agenda during a regional security meeting that was chaired by North West Governor Adolphe Lele Lafrique last Friday December 8th 2017.
The meeting that was attended by all seven Senior Divisional Officers and top officials of the defence and security forces took place in Sabga in-camera. At the opening of the meeting, the Mayor of Tubah Council, Tanjong Martin was concerned about the killings of security forces and civilians as a result of the anglophone crisis.
He pleaded with the authorities concerned to put hands on deck to end the present stalemate so as to avoid the killing of innocent souls. He pray the almighty God to intervene so that life should get back to normal.
Governor Adolphe Lele L'afrique on his part said the times were challenging and with the end of year festivities, much need to be done to maintain peace and security. He was quick to add that the meeting was taking place under a special context due to the rise of insecurity in the region.
As a result, he requested his collaborators to work together and ensure that peace reigns.
At the end of the meeting Governor Adolphe Lele Lafrique told reporters that special measures have been taken to maintain law and order in the region during this festive period. He said the government has equally taken stringent strides to keep terrorist at bay.
He therefore called on the population to stay peaceful and remain calm as the government is out to ensure their safety and security. He requested the population to collaborate with the forces of law and order as they are out to ensure their safety and security.