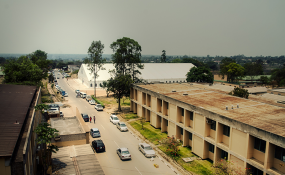 Photo: CBU
By Paul Mwitwa
Students at the Copperbelt University have refused to get back to class despite calm returning at the higher institution of learning following fights with the Zambia Police.
The students who are going about their normal activities within the institution are demanding that government pays them their delayed meal allowance.
The contend that it was unfair for government and other concerned stakeholders to expect students to be in class without eating and after being beaten by the police.
"we were beaten badly over the weekend, our meal allowances have not been paid how do they expect us to go back to class. This is very unfair, government should just pay us and there will be no problems here, yes we will not get back to class until our accounts are credited," one student declared.
Another student disclosed that union leaders have been sent to Lusaka to dialogue with Prof Nkandu Luo to find a lasting solution to the challenges at the Copperbelt University.
"We have been informed that our union leaders have gone to Lusaka to meet the minister maybe from that we will get answers but as of now the situation remains like this. Government should just be fair on us we can't be in class on an empty stomach," another student said.
They have expressed hope that government will respond to their demands and ensure the academic calendar progresses uninterrupted.
"For some of us we are ready to go back to class, once we are paid there is no problem we will go back," another student added.