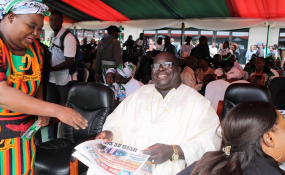 Photo: Zambia Reports
By Evans Mulenga
Patriotic Front Media Director Sunday Chanda has taken on Roan Member of Parliament Chishimba for commenting on the Social Media Administrators' workshop that was held on the Copperbelt recently advising him to stay away from certain issues.
Chanda in his statement to set the record straight said Social Media is new media and the party will continue to build capacity of its communication infrastructure without any apologies to the NDC.
He has claimed that the Copperbelt Social Media Administrators meeting was never attended by any single Government official.
"Government officials attending the meeting only exist in the NDC leader's world of imagination. While an invitation had been extended to Mr. Amos Chanda, but apologies were made as he had other commitments," he said.
Chanda added that Kambwili, the NDC political consultant, has been spending sleepless nights over the party's workshop in Kitwe.
"The Social Media Consultative meeting was not funded by any Government department but the Patriotic Front Media Department. For the NDC leader's benefit, this was the second meeting to be held on the Copperbelt while several others have been held in Lusaka Province," hee added.
"One thing he knows however is that a mobilized and highly effective PF Media will shorten his lies even further. He knows that an organized social media team will be a nightmare for him as it will cut his lies to size in real time," Chanda stated.