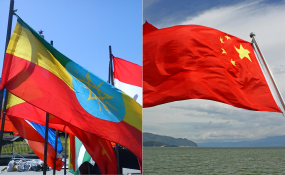 Photo: allafrica.com
By Yohannes R
Major financial institutions, and leading providers of economic analysis have forecasted that Ethiopia's economy will be the most expansive on the continent for the year 2017. And growth will remain brisk going forward despite some challenges it faced/s.
Some years after Ethiopia was mentioned as one of the 16 countries that stand to emerge in place of China, and lead the next wave of low-cost global manufacturing growth by George Friedman, Head of Geopolitical Think Tank 'Stratfor', Ethiopia's year of economic outlook through the prism of foreign entities have been mostly positive. Just to recap, according to Friedman, China is at the limits of its 30-year low-wage, high growth phase and its dominance of low-value manufacturing will give way to countries from Ethiopia to Indonesia to Peru to take its place. Those countries, which Friedman collectively calls the "Post China 16," have even lower wage advantages than China.
And it is by capitalizing on its low wage and large work force, which is expected to grow as a comparative advantage, that Ethiopia is aiming to attract foreign-owned (manufacturing) factories and turn the nation into a major manufacturing hub.
'The most expansive'
In June of this year, World Bank said that "Ethiopia's economy will be the most expansive on the continent for the year 2017 followed by Tanzania, Ivory Coast and Senegal in that order."
World Bank further noted that growth in non-resource intensive countries was anticipated to remain solid, supported by infrastructure investment, resilient services sectors, and the recovery of agricultural production.
While projecting a generally stable economic performance for most Sub-Saharan Africa economies, the report titled, "A Fragile Recovery," forecasted that economies will averagely "pick up to 2.6 percent in 2017 and to 3.2 percent in 2018, predicated on moderately rising commodity prices and reforms to tackle macroeconomic imbalances."
And that came after the International Monetary Fund (IMF) in April declared that Ethiopia overtook Kenya as economic giant of East Africa, pointing out how the Ethiopian economy showed strong resilience in 2016/17 amid continued weak global prices for Ethiopia's key exports and re-emergence of drought conditions in parts of the country.
The report noted that Ethiopia's economic growth since 2015 has been pegged at 10.8 percent putting a significant gap between the countries. In monetary terms, Ethiopia has opened a gap of over 29 million USD over Kenya.
It further indicated that Ethiopia's economic growth is hinged on public-led spending on infrastructure and a strong demand by locals, among other factors. Another factor believed to be driving the economy is the country's large population - which is almost double that of Kenya.
Focus Economics - a leading provider of economic analysis and forecasts for 127 countries in Africa, Asia, Europe and the Americas - for its part, issued its 2017 report in which it stated that Ethiopia's economy remains one of the fastest growing in the region, supported by a strong expansion in public infrastructure spending. Moreover, the report mentioned how the country's productive capacity is expanding citing its gradual integration into regional value chains.
While the report highlights some challenges facing the economy, like last year's drought, unrest, and the country's high external financing needs and bulky external debt which could generate financial turbulence in the event of an external shock, its final verdict is that the country's economy "growth will remain brisk going forward, helped by weather-related improvements in the agricultural sector and the scaling up of public capital outlays."