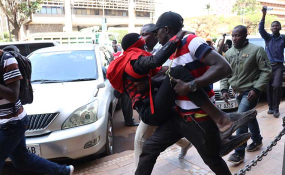 Photo: The Observer
By Monitor Team
Kampala — In the third and final part of the Daily Monitor poll, ninety-nine of the 248 MPs who are serving their first term in Parliament support the Bill seeking to lift the presidential age limit.
The poll with a sample size of 424 MPs captured 248 new members in the 10th Parliament and 176 who are serving at least a second term.
Out of the 248 new MPs, 99 (40 per cent) said they would vote for the Bill, while 47 MPs (19 per cent) said they would vote against it.
However, of the 176 old MPs 68 (38.4 per cent) said they would vote for the Bill while 44 (25 per cent) would reject it.
A total of 110 MPs (both old and new) did not respond to our questions while 56 were undecided at the time of the poll.
In terms of age, majority of both young and old MPs showed support for the Bill compared to their colleagues in the mid-age bracket.
The survey indicates that 23 MPs out of 53 aged below 35 and 13 of the 20 who are aged above 66 voted for the Bill.
The poll indicates a 43 per cent support for the Bill from the young Turks and a 65 per cent support from the old guard.
Only 11 MPs (21 per cent) aged below 35 voted against the Bill followed by 3 (15 per cent) of those aged above 66 who also opposed the Bill.
In addition, of 60 MPs aged between 56 and 65, a total of 28 (47 per cent) voted for the Bill and 7 (12 per cent) voted against it.
During the poll, Daily Monitor created five sets to represent different age brackets of 26-35; 36-45; 46-55; 56-65 and 66 and above.
Compiled by M Kyeyune, S Arinaitwe, N Wesonga, F Mugerwa, F Basiime, S Atuhaire, A Tumushabe, R Muhereza, Z Amanyisa, F Ainebyoona, P Rumanzi, G Mutyaba, S Mbogo, C Kisekka, M Muwulya