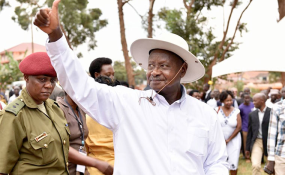 Photo: The Observer
opinion
By Okodan Akwap
At a recent meeting in State House with MPs from the Legal Affairs Committee of Parliament, President Museveni argued that running a country is not like Olympics competition. He was not entirely right.
In Africa, there is nothing that comes closer to long-distance running in Olympics than being the president of a country. This is a continent where, by the very nature of electoral processes, most presidents constitutionally rule for not less than five years.
If we are to equate each year an African president is in power to a kilometre, we can see that virtually all our Big Men are long-distance runners. By Olympic standards, distance-running is classified as any distance of more than 3.1 miles (5km), which would be equivalent to five years.
History has it that when the people of Athens started the Olympics in 776 BC in a crazy way (competitors ran completely naked), long-distance running was an eagerly anticipated event that separated the men from the boys. It remains an acid test on how far a competitor can go beyond merely releasing a burst of speed, like an aeroplane taking off, to enduring a heart-rending punishment of several hours of non-stop running.
Indeed, the last of the three words in the Olympic motto: "Faster, Higher, Stronger" appears to have been specifically included to emphasise the fact that one needs to be exceptionally strong to participate in long-distance running.
The same could be said of the "strong men" who have ruled African countries with an iron fist; either from the time their countries attained independence from former colonial powers or from the time they overthrew someone else in some bloody rebellion. In this class falls the strongest category of all long-distance runners - the political marathoners.
The history of post-colonial Africa shows a rich tally of presidential runners who have run these long-distance races: 5,000 metres (5km or five years in power), 10,000 metres (10km or 10 years in power) and the 26-mile marathon (42km or 42 years in power).
Interestingly, though only one presidential runner, the late Muammar Gaddafi of Libya, has ever completed a political marathon. Gaddafi ruled the north African country for a full 42 years from September 1, 1969, when he came to power after a coup, to October 20, 2011 when he was also ousted and then killed by rebel fighters backed by Western warplanes. This was the equivalent of a runner completing a long marathon before suddenly dropping dead.
Omar Bongo Ondimba of Gabon came very close to completing a political marathon. He ruled for 41-and-a half years from December 2, 1967 to June 8, 2009 when he died and was succeeded by his son, Ali Bongo Ondimba. Imagine a marathoner collapsing and dying 500 metres from the finish line!
In Angola, Jose Eduardo dos Santos finished 38km (years) before bowing out this year, four kilometres shy of completing a political marathon. Similarly, Uncle Bob of Zimbabwe completed 37km of an exhausting political marathon before the army helped him to finally take a much-needed rest.
Now all eyes are on the following political marathoners still running: Teodoro Obiang Nguema of Equatorial Guinea, who has completed 38km, Paul Biya of Cameroon (32km) and President Museveni (31km).
When Article 102(b) is lifted, Museveni should comfortably vie for the presidency in 2021. That would give him a total of 40 years (kilometres) by 2026. However, a certain Ibrahim Abiriga is coming up with a brilliant idea that the winner of the presidential race of 2021 should get seven years, not five.
That would be an excellent opportunity for Museveni to aim at a perfect marathon finish in 2028. Already, there is betting galore about who, among Nguema, Biya and Museveni, will become Africa's second long-distance runner after Gaddafi to complete a political marathon. Let's wait.
Dr Akwap is the Dean of Faculty of Social Sciences and Management Studies at Kumi University.