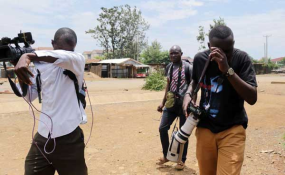 Photo: Tonny Omondi/The Nation
By Faith Nyamai
The number of journalists imprisoned worldwide has increased to 262 this year, up from the historical 259 imprisoned last year, a new report shows.
A report by the Committee to Protest Journalists (CPJ), a press advocacy group, shows that the increase in pattern is caused by failure by the international community to address a global crisis in freedom of the press.
For a second time, more of those imprisoned for their work and are behind bars are from Turkey, China, and Egypt.
WORST JAILERS
According to the report, the worst three jailers are responsible for jailing 134 or 51 per cent of the total number.
CPJ has been conducting an annual survey of journalists in jail since the early 1990s.
United States of America has cozied up to strongmen such as Turkish President Recep Tayyip Erdoğan and Chinese President Xi Jinping.
US president Donald Trump's national rhetoric, fixation on Islamic extremism and insistence on labelling critical media serves to reinforce the framework of accusations and legal charges that allow such leaders to preside over the jailing of journalists
"Globally, nearly three-quarters of journalists are jailed on anti-state charges, many under broad and vague terror laws, while the number imprisoned on a charge of "false news," though modest, rose to a record 21," says the report.
Turkey remains the world's worst jailer for the second time with 73 journalist behind bars compared with 81 journalists who were behind bars last year.
This is despite some journalists been released this year.
ANTI-STATE CRIMES
"Dozens more still face trial, and fresh arrests take place regularly," says the report.
According to the CPJ, during the course of the research they were not able to establish a link to journalism.
"Every journalist CPJ found jailed for their work in Turkey is under investigation for, or charged with, anti-state crimes, as was true of last year's census,"
She said, the crackdown on the Turkish press began in early 2016 and accelerated after a failed coup attempt that July.
The government blamed it on alleged terrorist organization led by exiled cleric Fethullah Gülen.
Authorities also accused journalists of terrorist activity based solely on their alleged use of a messaging app.
In China, the number of journalists in jail rose from 38 last year to 41 this year.
In Egypt the number of journalists imprisoned fell from 20 from 25 that were imprisoned last year.
Of the 20 journalists in Egyptian jails, 12 have not been convicted or sentenced for any crime.
Among them is photographer Mr Mahmoud Abou Zeid, also known as Shawkan, who was arrested covering a violent dispersal of protesters by Egyptian security forces.
He has been in pretrial detention for more than four years.
According to the CPJ research, he and his 738 co-accused are charged with possessing weapons, illegal assembly, attempted murder, and murder.
The report indicates thirty-five journalists worldwide were jailed without any publicly disclosed charge.
"Lack of due process in some countries results in such a dearth of information that it's nearly impossible for CPJ to determine what landed a journalist in jail, whether they have any health problems, and sometimes even whether they are alive," says the report.
In countries like Eritrea and Syria, journalists who were last known to be in government custody have not been seen or heard from in years.
In Syria, all seven journalists have been there for at least four years, amid unconfirmed rumours of torture or execution.
GAMBIA
In Gambia, the government of President Adama Barrow has expressed interest in determining what happened to reporter Chief Ebrima Manneh who was arrested in 2006 but had not been seen since at least 2008.
Of the total imprisoned worldwide, 22 which represents 8 per cent are female journalists.
Freelancers account for 75 cases which represents 29 per cent.
The report identified politics as the most dangerous beat, covered by 87 per cent of those jailed.
Countries appearing on the census for the first time in at least 12 months are Algeria, Cambodia, Democratic Republic of the Congo, Ecuador, Equatorial Guinea, Guatemala, Iraq, Morocco, Niger, Pakistan, Republic of Congo, Somalia, Uganda, and Ukraine.