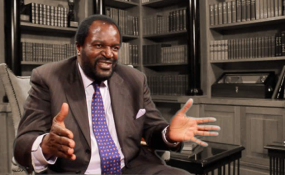 Photo: The Herald
Businessman Dr James Makamba is back home and says he has answered a call by President Emmerson Mnangagwa for Zimbabweans to return, help rebuild the economy and make the country great again. Dr Makamba confirmed his return in a video he posted on social media.
"I feel great to be back home," he said. "Anyone who has stayed away from their respective home for an extended period of time will tell you that it is no fun being away from home.
"So much happens during your absence, in my case I lost a dear daughter Chiedza known to most people. Friends, relatives and family had to stand in on my behalf at her burial, a thing that I found extremely painful, but, however, life goes on.
"We are answering the call by the new President, Cde Mnangagwa, to come home, work with others in rebuilding our economy because Zimbabwe is going to be great once again."
Dr Makamba went into self-imposed exile in 2005, after being charged with violating the Exchange Control Act. He skipped bail and fled the country as the State prosecuted him on charges of allegedly externalising £3,7 million, US$2,1 million and R15 million.
Dr Makamba is an entrepreneur with a diverse portfolio of interests covering telecommunications, retail, mining and consultancy. He came to prominence as a disc jockey at ZBC and was part of a consortium that was awarded a licence to operate the country's second mobile operator Telecel. Ever since going into self-imposed exile, Dr Makamba has set temporary bases in several countries.