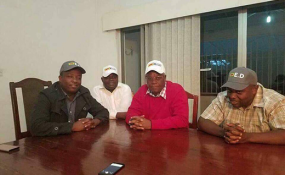 Photo: The Herald
ZANU PF has warned former finance minister Ignatius Chombo and former national youth chair Kudzai Chipanga after images circulated of the expelled pair donning party regalia.
The images show the duo, along with former Zanu PF youth league secretary Innocent Hamandishe wearing caps branded ED, the initials of President Emmerson Mnangagwa.
All three were expelled from the ruling party after the military coup which ousted former president Robert Mugabe, resulting in Mnangagwa taking over power.
The three officials are also being prosecuted for various alleged offences with Chipanga and Chombo have been abducted and detained for nine days after the coup by suspected military personnel.
Zanu PF national spokesman Simon Khaya Moyo issued a statement warning of possible action against them over the caps.
"It has come to the attention of the ruling party Zanu PF that images of a clique of expelled Zanu PF members of the G40 cabal namely Ignatius Chombo, Kudzai Chipanga Innocent Hamandishe and another person wearing regalia emblazoned with features depicting the President and First Secretary of the party, Cde Emerson Dambudzo Mnangagwa is widely circulating on a number of social media platforms," said Moyo.
"The party wishes to make it clear that the members have no entitlement to representing it neither do they have the right to represent the president and first secretary in any form."
He added; "Their actions constitute serious criminal conduct and are therefore abhorred in the strongest terms.
"These truant individuals are obviously burnt on soiling the good name of the party and that of its president and first secretary."
Chipanga and Chombo were key members of the G40 Zanu PF faction which had the backing of former President Mugabe and was thought to be laying the ground for his wife, Grace, to take over power.
They seemed to have secured a grip on the succession after Mugabe suddenly fired Mnangagwa who was then vice president from the government and the ruling party.
But the army intervened resulting in Mugabe resigning and several G40 members, among them cabinet ministers, escaping into exile.
Khaya Moyo's warning was however scorned on Twitter by former higher education minister Jonathan Moyo, another G40 leader who is now believed to be in exile.