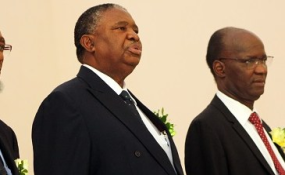 Photo: The Herald
Harare — At least six top managers at the Zimbabwe Manpower Development Fund (Zimdef) have been sent on forced leave to allow forensic investigations into the department.
The fund, a department in the ministry of higher education, was reportedly looted by ministers under former president Robert Mugabe.
Bosses affected by the new development include chief executive officer Fredrick Mandizvidza, principal finance director and administrator Nicholas Mapute, human resource manager Ignatius Noah Kajengo, cooperate legal secretary Servious Kufandada, the chief accountant Ropafadzo Mukamba and senior revenue manager James Gombarago.
The quality assurance and standards director Sebastian Marume has been appointed as interim CEO.
New Higher and Tertiary Education Minister Amon Murwira said the team was sent on forced leave with immediate effect in accordance with section 48(2)(b) of the Manpower Planning and Development Act (Chapter 28:02).
"The CEO and has team have not been suspended by have been sent on forced leave with full benefits to pave way for forensic audit," Murwira said this Thursday.
"The six members will immediately proceed on leave for the period extending from 13 December 2017 to 31 January 2018. The auditor general has been requested to facilitate the process of carrying out the forensic audit."
Murwira added, "The ministry is committed to improving the performance of Zimdef in line with government's parastatal review programme."
The development follows a highly publicized scandal involving sacked higher education minister Jonathan Moyo and deputy Godfrey Gandawa who, according to the Zimbabwe Anti-Corruption Commission, siphoned $430,000 in Zimdef funds.
While Gandawa reportedly used part of the money buy personal furniture, Moyo admitted to diverting funds to the ruling Zanu PF party and procuring bicycles for traditional leaders.
Both are being prosecuted over the alleged abuse but were strongly backed by former first lady Grace Mugabe.
The fund, meant to support students in tertiary institutions, was being abused at a time thousands of students are dropping out and institutions are struggling to provide quality education owing to economic hardships.
Moyo is now in exile since former president Robert Mugabe resigned in a guided power transition following a military take-over.