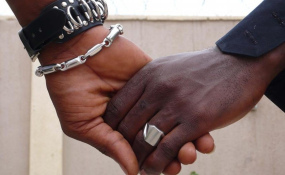 Photo: Deutsche Welle
By Werner Menges
The Namibian government's stance on gay marriage is set to be tested in court after a married same-sex couple this week launched legal action in a bid to have their marriage and residence rights recognised in Namibia.
An urgent application in which married couple Johann Potgieter and Daniel Digashu are suing the government, the minister of home affairs and immigration, the attorney general, the Immigration Selection
Board, the Immigration Tribunal, and the Ombudsman was filed at the Windhoek High Court on Tuesday.
With all of the respondents except for the Ombudsman having indicated that they would be opposing the application, judge Hannelie Prinsloo yesterday postponed the hearing of the matter to tomorrow.
Digashu and Potgieter, who were married in South Africa in August 2015, are asking the court to issue an interdict that would stop the government, the minister of home affairs, and the immigration authorities from treating Digashu and his and Potgieter's son as prohibited immigrants in Namibia. They are also asking the court to order the minister to issue a certificate of identity to Digashu.
Such a certificate would enable Digashu, who is a South African citizen, to leave Namibia and again enter and reside in the country without having to apply for a work or permanent residence permit.
Potgieter, who is a born Namibian, and Digashu will also be asking the court to declare that government, the minister, the immigration authorities, and the other respondents recognise their marriage; that Digashu is Potgieter's spouse in terms of the Immigration Control Act; that they and their son are domiciled in Namibia; and that they are a family as protected under the Constitution.
They further want the court to order the respondents to recognise an order of the High Court of South Africa in terms of which they were granted joint guardianship of a boy they are in the process of adopting. That court order also allowed them to take the boy with them when they moved to Namibia in April this year.
The boy's mother was Digashu's aunt. She died in late 2014 and since then he and Potgieter have been raising the boy, now almost nine years old, as their own child, Digashu says in an affidavit filed at the court.
In his affidavit, Digashu recounts that Potgieter moved back to Namibia in August 2016. By December 2016, the couple moved their pets and all of their belongings to Windhoek as well, and by April this year, after the couple had been granted the court order recognising them as the joint primary caregivers and guardians of the boy they are in the process of adopting, Digashu and the boy also moved to Windhoek.
Then a nightmare of encounters with officials from the Ministry of Home Affairs and Immigration started, Digashu indicates in his sworn statement.
He says he and Potgieter at first wanted to apply for a permanent residence permit for him, but towards the end of May a home affairs official told Potgieter that because their marriage was not recognised in Namibia, Digashu would not be granted a permanent residence permit and should instead apply for a work permit.
He then applied for a work permit, but upon enquiring about the application he was confronted with ignorance in the ministry.
Digashu says during a visit to the ministry he and Potgieter were directed to the office of a senior official who, when hearing the details of their situation, commented: "I have never met people like you in my life." The official also said, "I don't know anyone of your kind", and then revealed the extent of his ignorance by asking: "Who is the husband and who is the wife in the relationship?"
"This was obviously extremely demeaning, humiliating and degrading," Digashu says. "We were ridiculed and at the same time powerless to do anything. It was one of the worst feelings we have ever felt."
In July, the ministry informed Digashu his application to extend his visitor's permit had been refused, and that he had to leave the country within three days. Having been forced back to South Africa, leaving his family behind in Windhoek, he heard later in July that his application for an employment permit had also been refused.
By the end of July, though, Digashu returned to Namibia, entering the country on a visitor's visa again. When that visitor's permit expired in September, he was again forced back to South Africa, before returning to his family in Windhoek again, this time on a temporary work visa.
The temporary work visa is only valid until 8 January 2018, and in the meantime another application for a work permit has been rejected.
Digashu is charging that the immigration authorities are discriminating against him and Potgieter based on their sexual orientation, that this is unconstitutional, and that it also violates their right to be protected as a family.
Since he is now domiciled in Namibia, he should not be required to apply for any permit to be allowed to stay and work in the country, Digashu also says.
Potgieter and Digashu are being represented by senior counsel Raymond Heathcote, assisted by Japie Jacobs, on instructions from Carli Schickerling of the law firm Etzold-Duvenhage.