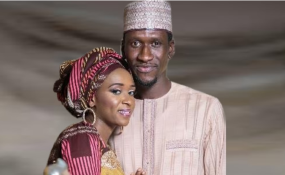 Photo: This Day
By Clement A. Oloyede
An FCT High Court in Jabi has sent Maryam Sanda back to prisons after refusing a bail application filed on her behalf for the second time.
Sources within her legal team confided in Daily Trust that the breast-feeding Maryam, who was alleged to have murdered her husband, Bilyamin Bello maybe pregnant.
The sources who are members of her legal team confirmed to our reporter that she had been pregnant even before the incident that led to her arraignment but added that the issue was downplayed because emphasis was on proving her innocence in the murder charge.
Earlier, police re-arraigned Maryam on amended charges alongside her mother, Maimuna Aliyu; brother, Aliyu Sanda and one Sadiya Aminu to which they all pleaded not guilty
Subsequently, their counsel, Chief Joseph Daudu (SAN), applied for bail for the four defendants.
While he made a formal bail application for Maryam, Daudu made oral bail application for the three other suspects. The defence counsel in the annexure to the bail attached copy of a medical report signed by one Dr Ogorochi N.M. for the Consultant in Charge of the National Hospital.
The report revealed that Maryam has "History of stage three (3) asymptomatic, drug-non responsive severe hypertension; of which she has been treated on couple of occasions of hypertensive emergency."
Police Prosecutor James Idachaba opposed both the formal and oral applications for bail.
The trial judge, Justice Yusuf Halilu said the medical report, notwithstanding, "I have seen from where I am that the 1st defendant (Maryam) has not exhibited any symptom of a life threatening ailment. She appears very strong while standing in the dock.
"I am not favourably disposed to granting her bail. Application for bail for the first defendant is hereby refused and dismissed."
Justice Halilu however, granted bail to Maimuna, Aliyu and Sadiya, who were arraigned alongside Maryam upon an oral application made by their counsel. The trial was adjourned till February 5, 2018.
Meanwhile, the arraignment of Maimuna Aliyu over allegations bordering on fraud has been stalled again due to the fact she was appearing in another court when the matter was called.
Her arraignment for alleged fraud was thereafter adjourned to January 11, 2018.