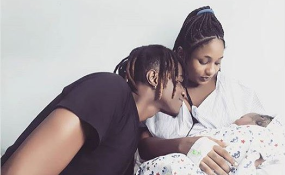 Photo: Nairobi News
By Mwende Kasujja
Music couple Navy Kenzo has welcomed their son Gold into the world.
Baby Gold was born on Saturday and the music duo Aika and Nahreel could not hide their excitement.
The couple shared adorable photos of Baby Gold moments after delivery as their fans congratulated them.
Aika had a gold themed baby shower few weeks ago and Kenya's Akothee lamented how she was left out in the invitations.
Akothee commented on one of the baby shower photos that she would bring some pampers for Baby Gold once he was born.
Aika and Nahreel have been dating for many years even before they formed the Navy Kenzo music group that rocked East Africa with its Kamata Chini dancehall hit.
Here are photos of Baby Gold and his parents.
Mr Gold welcome to the world. @gold_navykenzo Thank you God, and thank you all for ur prayers🙏. #AlsoHappyBirthdayMum #HappyIndependeceDayTanzania
A post shared by Aika Marealle (@aikanavykenzo) on Dec 9, 2017 at 6:59am PST
#Gold z Finaly Here, God z good all the time #HappyIndependenceDayTz
A post shared by Nahreel NavyKenzo (@nahreel) on Dec 9, 2017 at 5:35am PST
The Joy of Daddy... @nahreel hataki kabisa kukaa mbali na Gold Yupo kaganda hapo hapo... . he be like all ma lif e All ma life im waiting oyeye... ... ! #GOLD #GOLD
A post shared by Navy Kenzo ( Music Group )🇹🇿 (@navykenzoofficial) on Dec 10, 2017 at 12:38am PST
Welcome to motherhood's @aikanavykenzo ... .. ❤️ #GOLD #GOLD
A post shared by Navy Kenzo ( Music Group )🇹🇿 (@navykenzoofficial) on Dec 10, 2017 at 3:20am PST