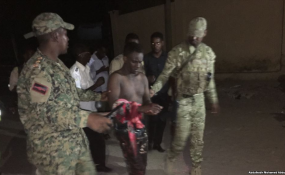 Photo: Abdulkadir Mohamed Abdulle
By Carla Babb
The United States is suspending aid for much of Somalia's armed forces over corruption concerns, U.S. officials confirmed to VOA on Thursday. The suspension reflects the Somali military's repeated inability to account for aid items such as food, fuel and weapons.
A State Department official said the pause in aid is being made "to ensure that U.S. assistance is being used effectively and for its intended purpose."
Somali security force members who are actively fighting al-Shabab and receiving some form of mentorship from either the U.S. or a third party will continue to receive appropriate assistance, the official said.
New accountability criteria
She added that the Somali government has agreed to develop new accountability criteria that meet American standards, in order for other Somali units to receive U.S. assistance in a way that "builds greater transparency."
"We don't want to give away support that isn't working and isn't helping the counterterror fight," another official told VOA.
According to documents obtained by Reuters news agency, the Somali military has been unable to properly feed, pay or equip its soldiers, despite hundreds of millions of dollars of American support.
A U.S. and Somali team sent to assess nine Somali army bases between May and June of this year found that all but two of the bases showed no evidence that food aid had arrived or been consumed by the soldiers, Reuters reported.
A 'big setback'
Plans to suspend the support will be a "big setback" to the effort by Somali security forces to fight against Al-Shabab, warns the former Somali Defense Minister General Abdulkadir Ali Dini.
Dini who worked closely with American officials in Somalia for many years first as chief of the Somali national army and later as defense minister as recently as March this year says the decision did not come the right time.
"If the United States suspends food, fuel and stipends that will hamper the war and work against the enemy and terrorists," he said. "It does not help these operations and it damages morale."
Dini says "mistakes" were made by successive administrations but he says the fighting against terrorism is taking longer at a time when the Somali government does not have the capacity to build its own army.
"Mistakes happened but it should not be suspended," he said without elaborating further.
"I'm not making excuses for them [Somali government] but patience is needed here," he said. "They [US] should have pressured them to stop the corruption and if they can't reduce it, but to stop support is a big setback to the operations against anti-peace elements."
The U.S. has made the decision to suspend support without giving Somali government a chance and time to prepare alternative plans, Dini told VOA Somali.
Harun Maruf contributed to this report.