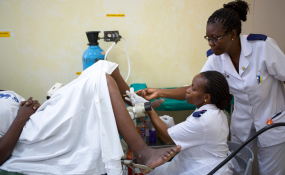 Photo: Gavi, The Vaccine Alliance
By Deus Ngowi in Hai
YOUNG girls, especially schoolgirls, who engage in sexual intercourse, should have a second thought after findings by health experts showed that they are at risk of getting cervical cancer in the future. Addressing a cancer screening camp at Machame Hospital here recently, the Head of the KCMC Referral Hospital's Cancer Care Centre (KCMC CCC), Dr Furaha Serventi, pointed early sexual involvement by young girls as one of the factors leading to cervical cancer.
The ongoing camp is performed through a Prevention and Awareness Campaign (PrevAcamp) conducted by the KCMC hospital, Evangelical Lutheran Church of Tanzania (ELCT) and facilitated by the German based Lutheran Church of Bavaria. Dr Serventi said there were several factors which could lead to a person getting cervical cancer whereby he named one of the factors as that of girls starting sexual activities at a young age.
Expounding on the disease, Dr Serventi said that the commonest of risk factors of cervical cancer was the infection by Human Papiloma Virus (HPV) that he said is acquired through sexual intercourse with an infected partner. "There are increased chances for being infected by HPV if one has sexual intercourse with multiple sexual partners or if one is involved in sexual intercourse by a partner who has had multiple sexual partners," he warned.
However, according to Dr Serventi, being infected by HPV does not necessarily lead to cancer of the cervix, whereby he said that chances of getting cancer of the cervix could also be increased if one had low immunity especially to individuals with the HIV. He appealed to people to have the habits of checking their health regularly, whereby he gave advice to those who were worried whenever they found a tumour in any part of their bodies to go for checkups rather than ignoring the situation.
"If you do early checking and find out that it is cancer in its early stages, this would be treated early; when you get early treatment on cancer the disease would be treated completely," he said. Dr Serventi's early cancer screening appeal was supported by a testimony of one of the persons who got completely healed after early screening process.
In her testimony during the PrevAcamp at the Machame Hospital, Ms Mary Semu (66) attributed her healing to regular checkups on her health. "I used to do checkups from time to time since I learned about the benefits of doing so and one day I felt something like a tumour which was later found that it was cancer," she said.
According to her, she was shocked but had to come to terms with the situation and went to register herself for early treatment, something which she said led to complete healing. In his remarks, the Director of Machame Hospital, Dr Jonas Mushi, thanked KCMC, the ELCT and the Lutheran Church of Bavaria, for involving the hospital in the PrevAcamp camp campaign, whereby he said it opened a new chapter as far as cancer fight in Hai District was concerned.