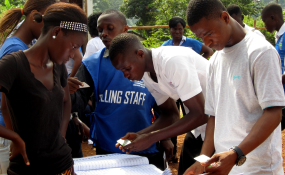 Photo: UNIPSIL
By Kemo Cham
Freetown — Police in Sierra Leone have detained presidential aspirant Musa Tarawally, months into next year's General Election.
The confinement of the prominent opposition leader has prompted cries of political intimidation.
Mr Tarawally, who is one of about half a dozen people to have expressed interest in running for president in the March 7 polls, was detained after being invited for questioning by the police on Monday.
It happened just days after he was named the flag-bearer of a five-member political parties coalition - the Citizens Democratic Coalition (CDC).
Suspicion of forgery
The police have not stated the official reason for his detention, but reports have cited officials at the Criminal Investigations Department saying he was under investigation on suspicion of forgery relating to land transactions under him as a Cabinet minister.
Mr Tarawally was considered a close ally of President Ernest Bai Koroma in whose government he served between 2007 and 2015, first as minister at regional level and then as Cabinet minister responsible for Internal Affairs and later Lands.
He was sacked in 2015 amidst allegations of corruption in the land sector. President Koroma at the time promised an investigation.
Questions were now being asked about his detention, just after declaring his political ambition.
Mr Tarawally has been in the business sector since his sacking, occasionally getting involved in philanthropic activities, until about a week ago when he was announced as the CDC flagbearer.
He was elected to the top position of National Organising Secretary in the governing All People's Congress, a position he recently relinquished, before accepting the CDC ticket.
The detained politician and his supporters say his arrest was politically motivated.