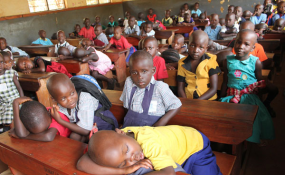 Photo: Stephen Okello/Daily Monitor
By Patience Ahimbisibwe
Kampala — The Uganda National Examinations Board (Uneb) latest report on literacy shows that only two of every 10 pupils in Primary One and Primary Two can answer correctly comprehension questions in local languages and English language.
The assessment was conducted in October 2016 using 189 assessors and 12 data quality assurance officers.
The national exams body through its National Assessment of Progress in Education (NAPE) programme tested 15,695 pupils sampled from 405 government primary schools in Primary One to Three.
The baseline assessment also looked at 11 local languages from 27 districts, which were rated worst performers in the 2011 NAPE assessment.
"In all the 11 local languages and English language, not more than 10.6 per cent of Primary One and Primary Two learners could answer correctly one comprehension question," reads part of the report titled 'The Achievement of Learners in Early Grade Reading'.
While presenting the findings, Uneb official Amos Opaman said the sampled pupils were individually subjected to oral interviews in their respective local languages, which are expected to be the medium of instruction under the thematic curriculum and English language.
The tests that were timed, required the pupils to identify letters, letter sounds, vocabulary, fluency and comprehension of between 55 to 62 words. The assessment also expected a child to be able to identify a letter in five seconds and 20 words in a minute.
Of the languages assessed, Runyankole-Rukiga had more pupils who could identify letters followed by Lugbarati and Luganda. Lhukonzo, Lumasaaba and Lusoga had the least proportions of learners who could identify at least four out of five letters. Other languages that were looked at included Ateso, Ngakarimojong, Leb-Acoli, Leb-Lango and Runyoro-Rutooro
"Teachers have a big problem with letter sounds and yet they are supposed to teach them. I see trouble. We need to do a little more training for teachers," Mr Opaman said.
"If the learners are not pronouncing the letter sounds correctly, it also means teachers have difficulty with it. The teachers are struggling to learn the sounds and have formed songs of the letter sounds which has distorted actual letter sound pronunciation," he added.
Prof Lutalo Bbosa, the Uneb national advisory chairperson, said there is need to assist learners to develop their reading skill at an early age. He said some of the challenges the learners are facing stem from the teachers' lack of knowledge on some of the concepts.
"I went to the field when this assessment was being carried out, to say the least, it was pathetic. The learners hadn't been exposed to many things and many of the teachers said they were not taught letter sound," Prof Bbosa said.
The dismal literacy competence among the young learners has left Education ministry permanent secretary Alex Kakooza puzzled and asking just what could have gone wrong with teacher training. He reasoned that reading should be one of the basics they learn and teach.
"When we were young, we were taught how to read [the vowels]; a, e, i, o, u. We would then be told how words form and later joined them to create sentences. We are now going back to the basics. How did we got off? That is a big question," Mr Kakooza said.
He said the early grade reading intervention will require parents to come on board and ensure their children have learning materials and are supported by revising with them while at home.
Mr Kennedy Jumanyol, a Uneb official, said on Thursday that teaching young children to read is the cornerstone of improving educational outcomes.
"Unless they learn to read at an early age, children cannot absorb more advanced skills and content that rely on reading," he said.
While the report shows that more than half the learners performed well in local languages, the majority of the learners scored below the pass mark in the English language literacy test.
Mr Dan Odongo, the Uneb executive secretary, said the Education ministry requested Uneb to establish the state of the young learners reading abilities so that corrective measures are taken to improve the quality of learning at an early age.