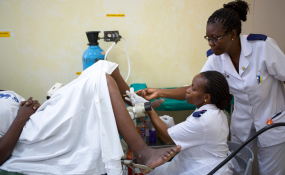 Photo: Gavi, The Vaccine Alliance
By Florence Mugarula
MINISTER for Health, Community Development, Gender, Elderly and Children, Ms Ummy Mwalimu has assured Tanzanians that the government through her ministry is looking forward to provide cervical cancer vaccination starting April, 2018.
Ms Mwalimu was speaking on her ministry's performance during a special programme aired by Tanzania Broadcasting Corporation (TBC). She said the Ministry has already submitted a letter to ask for a permit from the Global Alliance for Vaccines and Immunisation (GAVI), before the commencement of the programme, next year.
The programme was aired on Thursday evening. She said the vaccination is expected to be administered to girls aged between 9 and 13 years, who are sexually inactive to prevent them from the disease. "We are looking forward to start administering vaccination to girls aged between 9 and 13 years. If everything goes as planned, the exercise will start in April, next year," said Minister Mwalimu.
Earlier, the Director of Preventive Services at the Ministry of Health, Community Development, Gender, Elderly and Children, Dr Neema Rusibamayila, told the 'Sunday News' that the government was working to see the possibilities of introducing the HPV vaccine nationwide between next year and 2019.
Tanzania is among countries that benefited from GAVI support to carryout HPV vaccine demonstration programmes aiming at rolling out the immunisation countrywide. Dr Rusibamayila, however, explained that the pilot programme introduced in Kilimanjaro was not meant to test the efficacy of the HPV vaccine, but to come up with a system that could be used to implement the programme nationwide.
Yesterday, the Minister said everything is in order and that starting April, 2018, Tanzania health sector will write a new history by starting to offer the vaccination to girl children. Statistics from Ocean Road Cancer Institute (ORCI), showed that one-tenth of the estimated 72,000 new cases and 56,000 cervical cancer deaths in sub-Sahara African countries reported for the year 2000, occurred in Tanzania.
Using an age-standardised incidence rate (ASR), Tanzania was found to have 50.9 cases per 100,000 women and using an age standardised mortality rate it had 37.5 per cent in 100,000 women. In 2009, for instance, cervical cancer accounted for 35.3 per cent of all cancer patients at the Ocean Road Cancer Institute (ORCI).
It is estimated that 80 per cent of patients diagnosed with cervical cancer die within five years of diagnosis. According to World Health Organisation (WHO) report 2012, cervical cancer is the fourth most common cancer in women worldwide, with an estimated 528,000 new cases annually after breast, colorectal and lung cancers countrywide.
The Minister asked Tanzania to build up a culture of health testing. She said many patients who are admitted to Ocean Road Cancer Institute (ORCI) are always on bad stage of the disease. "It is very challenging, 80 per cent of patients go to ORCI when the diseases are already at worse stage," she noted.
On heart treatment, the Minister said between 100 heart patients who are earmarked for Jakaya Kikwete Cardiac Institute (JKCI), 85 of them received treatment without any problem. She said the government has invested in the health sector and that the number of patients who seek services abroad has been reduced.
"The government has decided to control the number of patients who are given referral to abroad; we are doing this to save taxpayers' money and invest in health sector at local level," she said.
On elderly health care, the Minister said out of 2.5 million elders across the country, at least 1.3 million have been identified and 40 per cent of them have been given Identification cards that enable them to access free health services.