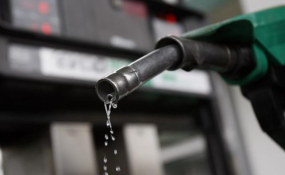 Photo: Vanguard
By Rotimi Ojomyela
Ekiti State Governor, Mr Ayodele Fayose, has said the current scarcity of fuel in the country was a ploy by the Federal Government to justify the planned increment of petrol pump price from N145 to N185 per litre.
The governor, who accused the Federal Government of being insensitive to the plight of Nigerians, said: "Petrol is scarce across the country because the Federal Government deliberately reduced supply since it is only the Nigerian National Petroleum Corporation NNPC, that is importing the product."
Fayose, in a statement yesterday by his Special Assistant on Public Communications and New Media, Lere Olayinka, added: "Allowing fuel scarcity to persist for over two weeks when Nigerians are preparing to celebrate Christmas and New Year is the height of wickedness on the part of the All Progressives Congress, APC, Federal Government.
"Funny enough, instead of directing its anger to President Muhammadu Buhari, who is the Minister of Petroleum, on December 7, 2017, the Federal Executive Council (FEC) choose to give the Minister of State for Petroleum, Dr Ibe Kachikwu seven days ultimatum to end the fuel scarcity."