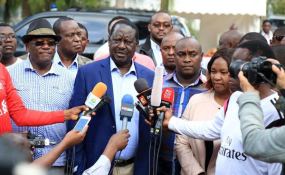 Photo: Dennis Kasivu/Daily Nation
By Erick Oduor
Kenyan opposition leader Raila Odinga will now rely on the People's Assembly to push his electoral and constitutional reforms agenda, after the aborted swearing in as the "people's president" left his strategy team divided.
Smarting from outrage from its supporters over the postponement of the swearing in that was to take place on December 12, the National Super Alliance (Nasa) top leadership will this weekend retreat to Mombasa to craft a new strategy on how to pressure President Uhuru Kenyatta by launching the People's Assemblies as the vehicle for reforms.
Legal opinion
An advisory by Nasa legal team seen by The EastAfrican noted that announcing the swearing-in of Mr Odinga was a tactical mistake because it was not anchored in any law, warning that the outcome could have brought Mr Odinga's illustrious political career to a disastrous end.
According to the legal team headed by Paul Mwangi, Mr Odinga could still pursue other legal means to get electoral justice, especially making People's Assemblies active to deliberate key reforms agenda to check President Uhuru Kenyatta's powers.
It is from this legal opinion that Mr Odinga and other coalition principals -- Musalia Mudavadi, Kalonzo Musyoka and Moses Wetang'ula -- are expected in Mombasa this weekend to discuss the way forward and later launch the People's Assembly in Mombasa.
"Those rushing to swear in Raila on December 12 are taking short-cuts. They don't want to put in the hard work that is required. There are many options. They will require more work and time but they are safer for everyone and we will eventually guarantee better success," reads the legal opinion.
The legal team borrowed from the recent controversial secession referendum by Catalonia, which was done through the local parliament to sever links with Spain as an option that Mr Odinga could pursue through the People's Assembly to seek justice.
Mr Odinga's strategist David Ndii is already being investigated by police over his remarks that supported calls for secession, which has already been put in motion by a letter to Independent Electoral and Boundaries Commission by Homa Bay Town MP Peter Kaluma.
People's Assembly
On Thursday, Nasa announced that the launch of the People's Assembly was to begin over the weekend to push for deliberation on key reforms, which have since been rejected by ruling Jubilee administration.
"The postponed inaugural session of the National People's Assembly will be preceded by a series of regional consultative forums. These preparatory meetings will bring together the leadership of the different regions of the country to deliberate on national governance as it affects the regions, and to distill the region's agenda for the People's Assembly," the opposition said last Thursday.
Secession debate
President Kenyatta this past Friday warned over talks on a breakaway, saying Kenya remains a unitary state and that any attempts at separation will not be tolerated.
"We will not entertain any language or any action that either threatens the territorial integrity of our nation or that threatens life and property," said President Kenyatta.
According to President Kenyatta, those spearheading the secession debate have crossed the "red line" and will face the full force of the law should they make good their threats.
The People's Assemblies seek to begin the process of amending the constitution, reorganise the country's governance structure, disbanding the Independent Electoral and Boundaries Commission, and constitute a new one that will oversee future elections.
At least 15 counties have already passed motions to establish the People's Assembly, where both elected, non-elected leaders, civil society and citizens will converge to deliberate on reforms being pushed by Nasa.