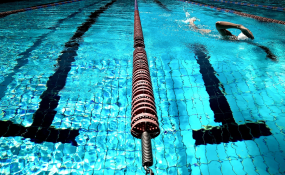 Photo: Pexels
Commonwealth Games qualifying times continued to tumble on the second day of the KZN Aquatics Premier Championships at the Kings Park Aquatics Centre in Durban on Sunday.
Seven more times were swum on day two of the event, bringing to 11 the qualifying times achieved.
Olympic and Commonwealth medallists Chad le Clos (pictured above) and Cameron van der Burgh entered the fray.
Van der Burgh posted a qualifying time in the final of the 100-metre breaststroke in a golden 59.89 seconds ahead of Michael Houlie, who, besides winning the silver, also dipped under the required standard of 1:02.46, and added his name to the qualification list in 1:01.98. The bronze went to Brenden Crawford in 1:03.82.
Houlie, pictured celebrating in Durban action above, was one of the stars for Team South Africa at last year's Commonwealth Youth Games in the Bahamas and told Team SA's Mark Etheridge after his Sunday swim: "It was an emotional rollercoaster but I'm happy.
"I expected myself to qualify in the morning, and the morning swim wasn't the greatest - but I made up for it with the evening swim where I managed to get the process right.'I got the job done but it's nowhere near to what I'm capable of because I've been swimming a lot faster over the past two weeks," said the Cape Town based swimmer who still has the 50m on Tuesday before his swimming year is done.
But with the Gold3 Coast games looking large in early April there won't be time for much of a break.
"I'll have a short break and get some quality family time, but next year is definitely going to be a busy one, that's for sure," said Houlie.
Le Clos and Jarryd Baxter (another to shine in Bahamas) celebrated their Commonwealth Games qualification times in the 200m freestyle, finishing first and second in 1:48.28 and 1:50.79, respectively, while the bronze medal was claimed by Calvyn Justus in 1:51.55.
Le Clos was once again victorious in the 50m butterfly in 24.06, followed by Ryan Coetzee in 24.19 and Ralph Goveia in 24.54.
The phenomenal performances continued with Mariella Venter (SA's best female swimmer at Commonwealth Youth Games), who raced to the gold and a Games qualification time of 1:02.55 in the 100m backstroke, followed by Nathania van Niekerk in 1:02.79 and Naomi Ruele in 1:04.21.
Van Niekerk was the stand-out female swimmer for Team SA at the AUSC Region 5 Games in Angola this time last year.
Erin Gallagher had another fantastic day of swimming, bagging her second Commonwealth Games qualification, this time in the 50m freestyle, breaking her own 2015 KZN record with a new time of 25.35.
Gallagher, who celebrates her 19th birthday on Monday, qualified in the 100 butterfly on Saturday.
The silver and bronze went to Emma Chelius and Olivia Nel, both touching the wall in Commonwealth Games qualification times of 25.66 and 26.06, respectively.
"This is the best birthday present ever," an excited Gallagher told Team SA .
"I couldn't be happier with a personal best and a qualifying time.
"I loved racing with Emma and Olivia in such a competitive race and I'm overjoyed for them qualifying as well. I can't wait for the rest of the gala, I'm super, super excited."
In the 200m freestyle, 15-year-old Dune Coetzee became the ninth swimmer of the night to add her name to the list of Commonwealth Games qualifiers when she finished in 2:02.68 ahead of Marlies Ross in 2:03.04 and Kristin Bellingan in 2:03.68.
Ayrton Sweeney and Luan Grobbelaar were over the moon as they confirmed their Commonwealth Games qualification times in the 400m individual medley, finishing in 4:16.53 and 4:22.58, to the required 4:26.93, while Neil Fair (one of the SA stars of the 2015 Commonwealth Youth Games in Samoa) took away the bronze in 4:29.89.
In the age group events, there was no stopping Luca Holtzhausen (13) as he sped to three gold medals and three new KZN records.
In the 100m breaststroke, Holtzhausen beat out the competition with a new KZN record time of 1:08.88, breaking the 2013 time of 1:09.11, which was held by Gareth Kemp.
The youngster followed that with a win in the 200m freestyle, clocking a new KZN record of 1:59.63, to Kevin Bargate's 2012 time of 2:00.42; and finished the evening off with a gold medal in the 50m butterfly with a new KZN record of 27.09, beating his own time of 27.24 from earlier in the year.
The remaining 100m breaststroke winners were Connor Reinders (11) in 1:25.52 and Matthew Sates (14) in 1:08.10, while the 200m freestyle gold medals went to Ricky Lottering (11) in 2:25.14 and Gavin Smith (15) in 1:58.77. Lottering and Smith also grabbed the gold in the 50m butterfly in 32.18 and 26.25, respectively.
Jessica Carmody (10), Emma Christianson (12) and Tailyn Seyffert (15) won their respective 100m backstroke age group races in 1:19.64, 1:09.99 and 1:06.43, while the 50m freestyle gold medals were claimed by Kirsten Cottrell (11) in 30.72, Melanie Cooke (13) in 28.67 and Kirsten de Goede (14) in 27.14.
De Goede scooped her second gold of the night in the 200m freestyle in 2:08.06, with the other age group gold medals going to Milla Drakopoulos (11) in 2:31.62 and Lise Coetzee (12) in 2:14.60.
The KZN Aquatics Premier Championships and Commonwealth Games Trials will continue on Monday with heats starting at 9am while the finals begin at 5pm.
Commonwealth Games qualifying times after day two:
Calvyn Justus - 100m backstroke (55.57), Ayrton Sweeney - 200m breaststroke (2:11.64) and 400m individual medley (4:16.53), Erin Gallagher - 100m butterfly (58.93) and 50m freestyle (25.35), Brent Szurdoki - 400m freestyle, Cameron van der Burgh - 100m breaststroke (59.89), Michael Houlie - 100m breaststroke (1:01.98), Mariella Venter - 100m backstroke (1:02.55), Chad le Clos - 200m freestyle (1:48.28), Jarryd Baxter - 200m freestyle (1:50.79), Emma Chelius - 50m freestyle (25.66), Olivia Nel - 50m freestyle (26.06), Dune Coetzee - 200m freestyle (2:02.68), Luan Grobbelaar - 400m individual medley (4:22.58)
Honoured to be representing my country at my 3rd Commonwealth Wealth Games #historyinthemaking #CleC #teamsouthafrica ????????????????-- Chad Le Clos (@chadleclos) December 17, 2017
Source: Sport24